Google Marketing Live 2023 took place on Wednesday, 24th May. It brought with it new announcements in the world of PPC. In case you missed any of the top announcements, then continue reading. We delve into all the top features coming to Google Ads, including the new AI-powered solutions.
Google Ads, Google Marketing Live: Top Announcements
A new ads experience with a new Search Generative Experience (SGE)
Conversational campaign building & asset creation for search and performance max
Improved reporting insights and new experiment types
New goals to maximise performance in Performance Max
Full funnel video solutions
A reimagined ads experience with a new Search Generative Experience (SGE)
Google I/O unveiled that AI-powered the new Search Generative Experience (SGE). Aiming to bring a more immersive, supercharged platform that will make search results more intelligent and the way users search simpler. The new search experience will first roll out to users in the US throughout this year.
At Google Marketing Live 2023, Google shared more details on how this will impact ad results. Google announced they are experimenting with search and shopping ads within this new search experience. These ads will be driven by AI and fit within this new conversational Google. They announced there would be new ad formats that use generative AI to create relevant, high-quality ads. The ads are customised to each step of a user's search journey.
Google has given a glimpse of how these ads may appear, as depicted in one of their early experiments below: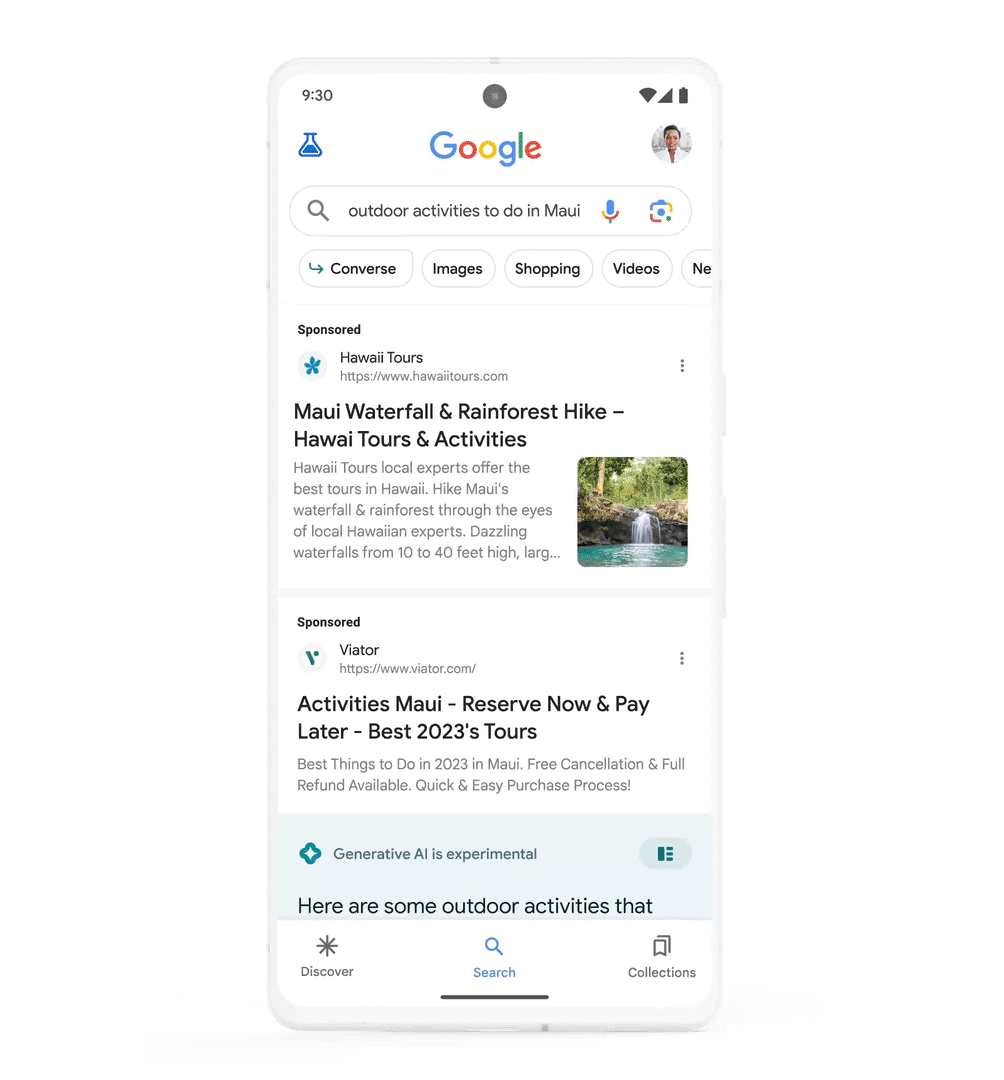 Source: Google, 2023
Conversational campaign building & asset creation for search and Performance Max
Google announced a host of new features to enhance the creation of search and Performance Max campaigns. The new features aim to help advertisers drive better results.
A new conversational search campaign builder
The new search campaign-building experience is aimed at combining the expertise of the advertiser on elements such as brand guidelines with Google's own AI to create better search campaigns. Over the years, Google's AI has developed, and its ad suggestions have become more natural. In this upcoming release, you will be able to ask Google Ads for ideas, just as you might ask a colleague. You can request effective keywords, headlines, descriptions, images and other assets from Google.
Google has announced it will be testing this new conversational experience in July. It will then become more widely available later this year.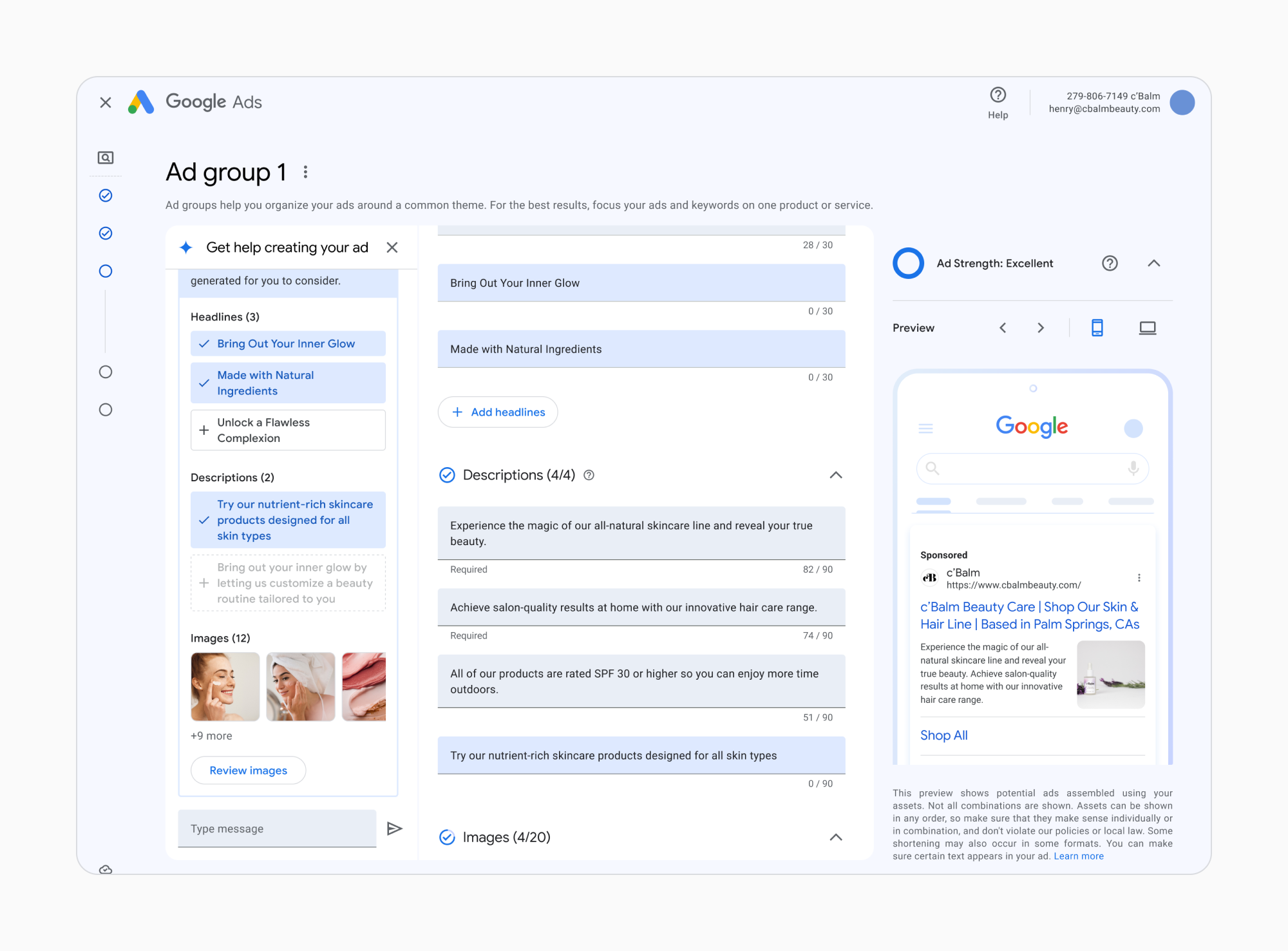 Source: Google, 2023
Improved automatic asset creation
In its current form, Google's automatic asset creation is often avoided and disabled by many advertisers, myself included. However, it is an element Google is still pursuing, and they have announced improved automatic asset creation with its generative AI. The upgraded feature will generate new headlines and descriptions across search and performance max.
According to Google, these new headlines and descriptions will better match a user's search. The AI-generated headlines and descriptions will draw from the content of your landing page to help improve your ad relevance and keep your ads fresh while staying aligned with your brand.
Generate new, high-quality assets in Performance Max
Google will begin rolling out a revamped asset creation flow in Performance Max. As with most announcements from Google Marketing Live 2023, this will be powered by their new generative AI.
An advertiser will just need to enter a few details to give Google's AI insight into your business, and Google will provide back multiple options for text and image assets that you can easily add to your campaigns. To ensure your branding is upheld, you can revise and remove assets as desired. If you are unsatisfied with initial suggestions, you can also direct the AI to create additional and new versions.
In addition to the suggestions, you will get insight into which assets perform best and recommendations on where to switch out old assets.
These updates are expected to begin rolling out in late 2023.
Improved reporting insights and new experiment types
During the Google Marketing Live announcements, there was a clear focus on providing advertisers with more data insights and testing opportunities. These insights will come as a welcome change, with insights having been stripped back over the last few years.
New experiment types
You will soon be able to a/b test different campaign configurations within a single Performance Max campaign. These tests include things such as the use of final URL expansion. Google will initially release this in Beta in late 2023.
Improved search term insights
A much-awaited updated to the viewability of search terms within Performance Max campaigns. Whilst it still won't surface the entire search term report, the insights page will include more search term categories to help you understand a customer's intent and how they are searching and finding your business.
In the update, you will be able to view custom date periods, look back at historical data and download them to dig deeper.
A new look for performance insights
Google will be revamping and streamlining several explanations and insights into one unified view. These include change history and auction insights.
More insight into asset performance
Another long desired feature, although still lacking. This update will give more details on creative asset performance. It will surface insight into which creatives aren't resonating with specific audiences. It will also provide recommendations to use new AI-generated assets or stock assets that may help improve your ads performance.
New reporting tools and insights
Google have announced they are continuing to build and improve tools to help you better analyse and optimise the performance of your campaigns. The insights aim to show visibility into what is driving your conversions.
The improvements announced are aimed specifically at eCommerce retailers and will help advertisers to identify product and category-level feed optimisations. The reports will show things such as missing product attributes or policy violations and showcase recommendations for improvement.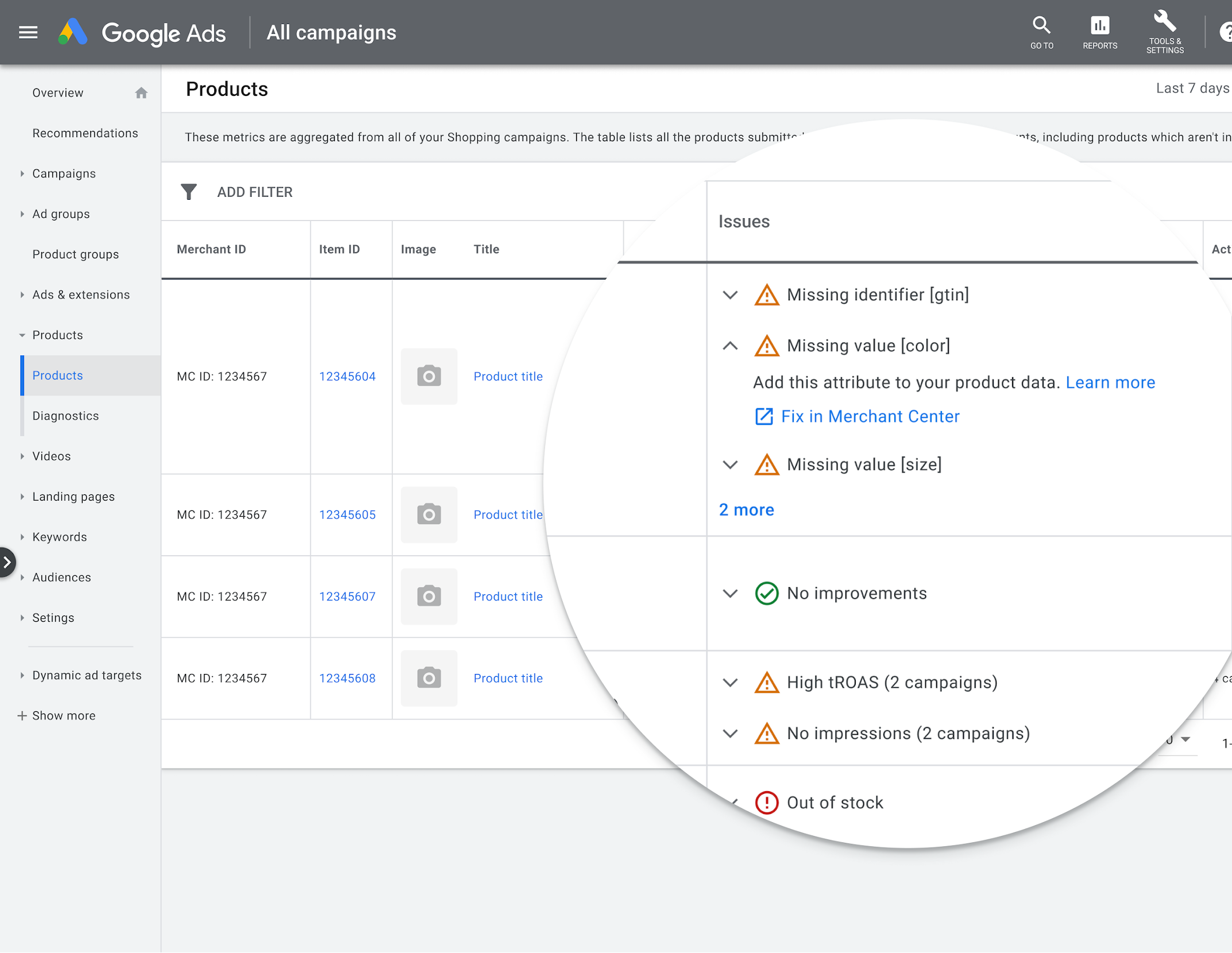 They went further to help advertisers understand the profitability of campaigns, advertisers will soon be able to measure the profit of products within their campaigns. Additional conversion tracking will need to be implemented to pass through data such as Cost Of Goods Sold (COGS) to view this data.
Profit reporting is extremely powerful in driving the success of your campaigns as it allows you to spend your advertising budget more wisely. Whilst this is aimed at profit reporting in Google, you can also implement this across other marketing channels such as Meta. Where most advertisers focus on revenue, it is essential that, as marketers, we understand that revenue does not equal profit. This is a welcome update from Google and builds on work marketers have been implementing to do this independently.
New goals to maximise performance in Performance Max
The aim of these new goals is to help advertisers maximise revenue from both new and existing customers. Advertisers can combine first-party customer lists with Google's AI to reach users at every point of the conversion funnel.
New customer acquisition is already a feature within Performance Max and search campaigns. However, Google has been working to improve this goal. The new goal development allows advertisers to optimise for new customers that are predicted to deliver a higher lifetime value. This feature is currently available in beta and can be accessed by Google Premier Partners.
A new re-engagement goal will also be coming later in 2023 to help advertisers reconnect with high-value existing customers. The aim of this goal will be to increase retention.
Full funnel video solutions
Google announced the release of new features across YouTube. The new features enable more brands to deliver their ads across screens all over the world.
With Google's focus on AI, YouTube has not escaped an update to integrate more AI into the campaign and ad delivery process. Through new AI features, you will be able to generate new video content or resize and frame existing assets into horizontal, square or vertical video ads. You will be able to create these new assets from existing sources, such as a product feed. Creating these update assets will help expand the placement opportunities and reach of your ads. Vertical videos are on the rise, so crafting these from your existing content will be an excellent opportunity for advertisers to capitalise on popular placements such as YouTube shorts.
Source: Google, 2023
This builds on the release last year of Google's Asset Library. The Asset Library allows you to create and edit new videos based on templates. The Asset Library also enables the addition of voice-overs using Google's text-to-speech technology.
Behind the scenes, Google's AI also enhances the quality of the supplied assets. This is by improving the resolution and using smart cropping to resize imagery.
Alongside creating video assets, Google also uses AI to develop multi-format campaigns. With AI-powered campaigns, Google will deploy ads across a mix of in-stream, in-feed and video shorts based on what is deemed the most relevant at each auction. This will be based on a unique mix of your inputs, such as creative supplied and audiences targeted, as well as our business objective.
That concludes our roundup of the key announcements for Google Ads to come out of Google Marketing Live 2023. If you want access to any of the features released as beta, get in touch. As a Google Premier Partner, we get exclusive access.