"Search is the most genuine expression of people's thoughts that you'll find" – Thom Arkestaal
Jason Miller, Head of Brand Marketing at Microsoft, gives his ideas on how we can use our creativity to come up with campaigns that are innovative and unique.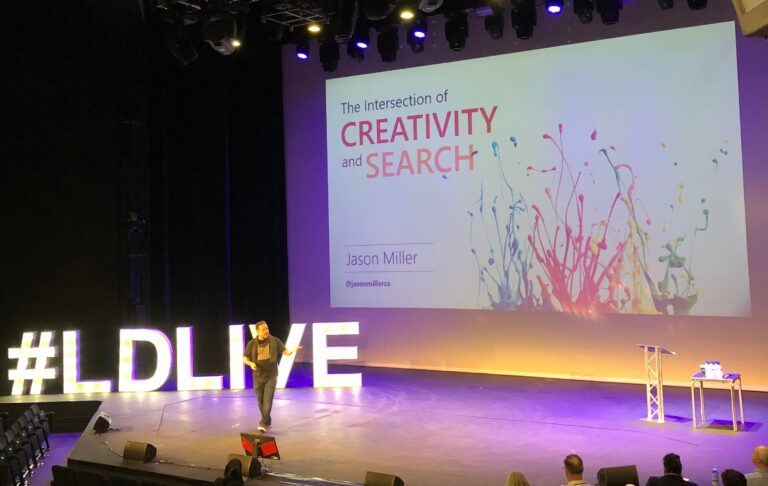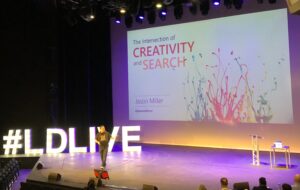 Creativity as a differentiator
Jason asks, "Are we a slave to keywords and landing pages, or is there room for creativity?"
He continues, "It's something we have to think about more and more as machines takeover and AI is more widely used to automate our marketing campaigns, optimise our ads and integrate our multi-channel marketing platforms.
"In 2015, out of the most desirable job characteristics when hiring new staff, creativity was just at number 10. In 2019, creativity, as a desirable skill, is at number 3.
"This is because machine learning cannot (yet!) artificially manufacture creativity."
Artificial creativity does not yet exist, as machines do not currently possess the judgement and innovation required for creativity to flourish.
As Jason notes, "If you want to better yourself, you can improve your creativity."
Creative effectiveness
Jason continues, "So, how do you apply your creativity to marketing? You give a brand something that money can't buy.
"Even awful creatives can sell a lot of products. We can all think of campaigns that seem so terrible, that there's no way they could sell products. Yet somehow, they work, often going viral, generating millions of views and huge sales increases.
"As Rand Fishkin says, 'There should always be a serendipitous element to your marketing'."
This means, there should always be an element of your marketing that is beneficial and adds value to the user's experience or creates an entirely new experience.
Dimensions of Creativity in Search
1. Being creative with search moments and motivations
Screenlock on Windows 10
Jason notes, "A digital marketing company called the Greenhouse Agency came up with this. Their client wanted to increase the number of people buying lottery tickets.
"They saw a 709% increase in total volume and a 200% increase in non-branded keyword sales."
Papa John's
"Papa John's wanted to communicate with hungry customers and target them at key times of day – such as when commuters get home and don't want to cook.
"The company did this by finding keywords that were enticing and descriptive gained from focus group testing, then used these to write their web copy, and distributed these keywords in digital campaigns as well as Out of Home (OOH) advertising."
The results of this use of creativity in search marketing spoke for themselves:
Mobile revenue increased: +48%
Profit per £ spent: + 139%
The company also leveraged location data to open new restaurants and customised their menus based on what people were ordering.
2. Being creative with keywords
Snickers
The You're not you when you're hungry campaign earned 558,589 ad impressions in just 2 days.
Snickers made bids on top keywords, but the misspelt versions.
They then targeted their You're not you when you're hungry ads to these searches. The campaign was intended to purely generate brand awareness but drew in 5,874 visitors to the branded site.
Ikea
In launching their Retail Therapy campaign, Ikea creatively used keywords to name their products.
They decided they could have fun by naming products after search queries that customers in relationships would type in, such as a side table named 'How to make long distance work', or a sofa called 'He doesn't text back'.
It's an ongoing campaign, yet has gathered vast media coverage again, and is likely to be highly successful.
3. Being creative with copy
Ann Summers
They 'newsjacked' trends, and rewrote the copy creatively. One example was when British Airways was grounded over Christmas one year, and their ad copy on this news story was, 'British Airways were grounded, but you can still take off with our toys'.
This was a highly successful campaign – the ads were shown 1.5m times, with a cost of just £4,500.
The campaign won the Revolution Awards in 2011 and picked up vast media coverage.
4. Being creative with the ongoing journey
We watch a lot of TV a day – nearly four hours on average for British people, and just over four hours for Americans.
Desktop use dominates during work hours, whereas smartphone and tablet use dominates at night, so ensuring your assets work well across platforms is key.
You can sync your campaign for ads at the time the TV ads are showing, too.
ePRICE took this approach, and saw a 344% increase in search queries a 324% increase in clicks and a Click Through Rate (CTR) of 14%.
5. Being creative with search data
Kleenex
People used to go to the doctor when sick, now they search online.
Kleenex followed a cold and flu outbreak throughout the UK by tracking the locations of search queries.
Using this search data, they targeted the regions having these cold and flu breakouts.
Sales increased 40% YoY in the first 2 months, and an extra 432,499 boxes of tissues were sold.
This brand can now respond to cold and flu outbreaks as they happen in the UK, and the team behind this innovation won the Cannes Lions medal for a PPC campaign.
You can buy Jason Miller's book online, here.
Find out more about Anicca's creative content marketing services, or contact the team today.