On Wednesday Google announced a new feature via their Webmaster Central Blog. They are now introducing 'Reviews from the Web' to the knowledge panels for businesses when you perform a Google search.
This allows businesses to display reviews from 3rd party sites such as Facebook and many others providing you are using the correct type of review snippet markup.
The update seems to have gone fully live in the U.S. but we are not seeing a huge amount of U.K. based companies with this feature yet. We did however, spot the feature on the Harrods knowledge panel on both Desktop and Mobile.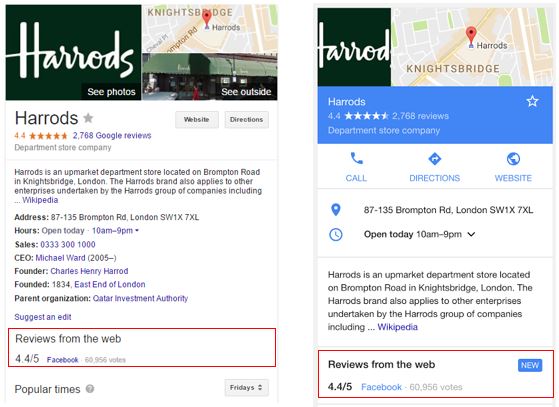 It has also announced that in the U.S., qualifying publishers can also participate in the critic review feature, which will also display separately in the knowledge panels. There is no word yet of when or if this is rolling out to other countries.
This update is a step in the right direction for businesses that rely heavily on reviews from sites other that Google itself and will further help users verify whether certain businesses may or may not be trustworthy or genuine. The SEO team at Anicca always explain the importance of reviews to our clients and this latest update further points out just how important reviews are.
What do you think about this latest update? Do you think this will help web users identify trustworthy businesses easier? What effect do you think this will have on the importance of reviews direct from Google?