Google announced on Tuesday May 17th that it is introducing Rich Cards to the Google.com SERPs, initially only for mobile results and for two content categories; recipes and movies.
Rich Cards takes the current Rich Snippets feature further, using your marked up content (with Schema) to display a lot more information about the content on your page within the search results pages themselves.
As a predominantly nerdy Technical SEO this is quite exciting as my main goal is to get as many types of content and data indexed and displayed in a way to encourage people to click through to a website. I like the positive user experience implications and CTR (click through rate) / conversion opportunities too.
How does this look against standard results and the current Rich Snippets?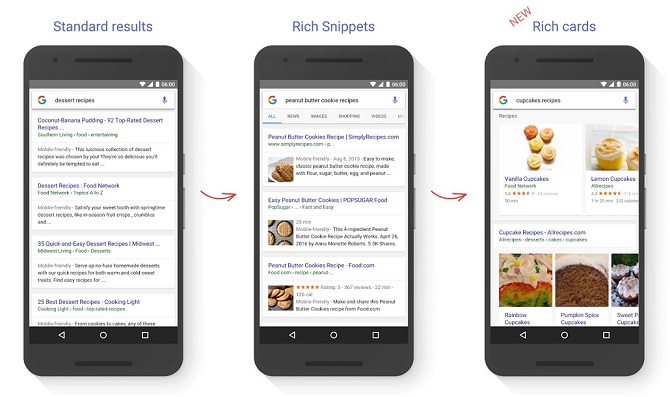 Flat SERP listings, no cool engaging calls to action
You can only optimise titles and descriptions to increase CTR and Conversion Rates

More information displayed about the pages listed
Image thumbnails
Structured data properties: Aggregate review stars, review counts, calories (pretty cool!), published dates, et al

New horizontal scrollable card snippets
Incorporating structured data properties
Quick access, conserving space on the SERP, allowing convenient scrolling
Good for smaller devices
Why is this important for your business / clients?
Using the current structured data solution (rich snippets) as an example, if you have a site with a lot of content and content types, particularly for large ecommerce sites, a structured data solution will help you:
Get that initial click! Drive more people into the conversion funnel and improve your CTR
Help to better qualify the traffic – the more information users have to go on when deciding to click on your site, the more focussed traffic you will get – improving engagement metrics as a by-product
*Help achieve higher rankings – maybe not directly (Google flat out denies this is a ranking factor), but going on the indirect principle that: relevant traffic = engagement/conversions = creating brand ambassadors = creating links = rankings, so it will help in the long run
Based on our look at Rich Snippets, the Rich Card solution will take all of this a step further.
What do I really think?
From a consumer perspective; as one of the average, multi-tasking web users with a relatively short attention span, being able to quickly ascertain what a search result can offer me. E.g. "does this TV have good reviews, good average star rating, what does it look like in the thumbnail image etc" – I'm definitely clicking on the result with as many of these elements as possible, ignoring the others.
*From a marketing perspective; if we use "growing revenue or goal completions" as a KPI example, If we can improve our click through rate by ensuring we stand out in the search results pages in the first place, this will help us reach our main KPI's, rather than focussing on rankings which is only ONE of many collective factors to a successful campaign.
How to implement, test and track Rich Cards?
Implement
Google's provides extensive documentation on how to identify and implement Rich Cards here – https://developers.google.com/search/docs/guides/mark-up-content.
Example of a Rich Snippet solution implemented with JSON-LD, this is what Rich Cards may look like: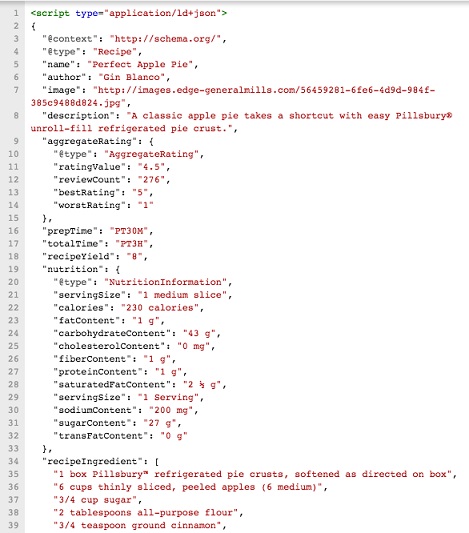 In this example the Schema code (a form of Structured Data) is picking out and adding specific values for each piece of data being shown to the user in the visible content for a recipe. Reviews, calories, servings…these elements are coded in a way that the user doesn't see so that Google can then recognise the type of data and the value you want to display, which it can then display successfully in the search results.
What's great about using JSON-LD is that its quick to add this code in the head section of your web page, quick to edit it afterwards, and helps the page load faster too. Prior to JSON-LD's development to allow this, people would wrap the invisible Schema code around every type of visible data on the page – a very long-winded process. Now we can just list all the schema on the page where no one will see it and publish it.
Google and 99.99% of developers and SEO consultants recommend using a the JSON-LD solution because of this.
Test
Use the new structured data testing tool, improved to now show you each error per element with an issue – https://search.google.com/structured-data/testing-tool/u/0/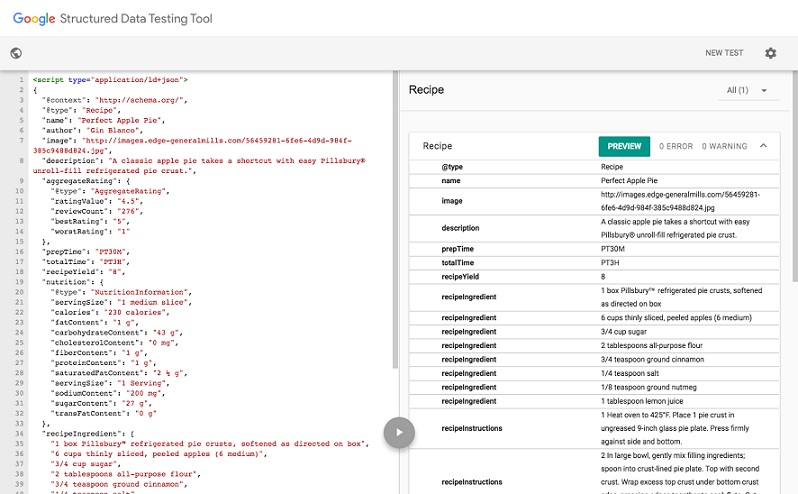 Track and refine
Track and fix errors in Google Search Console with the new Rich Cards report – https://www.google.com/webmasters/tools/rich-cards?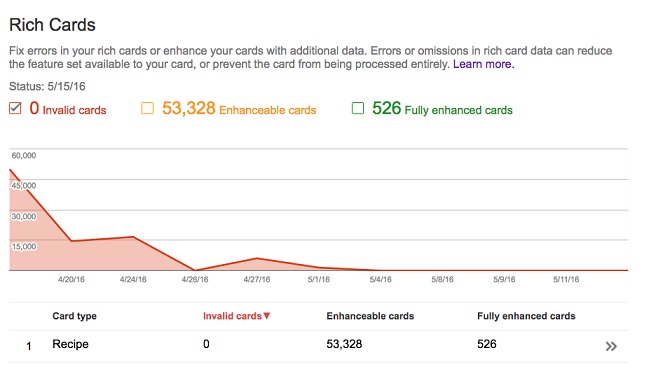 A "Rich Results" filter within Search Analytics on Google Search Console (coming soon – currently in a closed BETA) will allow you to determine which Cards are getting clicks/impressions, helping the ongoing process of refining your list of Rich Cards and overall keyphrase/ad performance.
We recommend having a play and getting accustomed to how this can be implemented, so that when more content types (aside from the essential recipes and movie types) you will be ready to get that additional exposure and help improve CTR, traffic and conversion.
Need someone to do this for you?
One of our areas of expertise is Technical SEO, where we regularly apply solutions like the one discussed above. Read about our Technical SEO offering or why not Get in Touch.
Further Reading
Other significant Google SERP changes in May 2016:
Google Image Searches to Now Return Shopping Ads in Results
New In Google AdWords – Table Ad Extensions Beta