Undertaking competitor analysis is a crucial task for any marketer, to ensure your business has the information it needs to stay one step ahead.
Why competitor analysis is important
Competitor analysis offers many benefits that range from enabling your business to grow, to making your own campaigns and marketing more effective. The top 5 benefits you can gain from conducting competitor analysis for your business are:
It enables you to monitor any impact on your own performance caused by changes competitors have made to their activity. When it comes to marketing performance, external factors such as changes to your competitors offering or positioning can have a detrimental impact on your own results
You can understand what messaging and benefits each competitor is pushing and how they are positioning themselves to customers. This can help you to identify potential short comings for them or you, and pivot to address customer pain points
You can find openings in the market for areas you are not currently pursuing. Whether that be new locations, keywords, audiences, or channels
You can understand where you are losing market share, which can help you to build a plan to rectify this
You can use your learnings to make your own marketing campaigns more effective
It is important though to keep in mind that competitor analysis is not there so that you can just replicate and adopt their strategy. It is also not confirmation that what a competitor is doing is right or effective for them.
Where to start your research
When it comes to understanding your competitors there are certain questions that you should pose:
Who are your competitors?
What is their organic presence?
What paid channels are they using?
How does each competitor position themselves and how are they differentiated?
Frequency of ad rotation and testing
What learnings can you take from their activity?
Who are your competitors
Before you start your research, you should define who your direct and indirect competitors are. Your indirect competitors can also share and take up the same ad space as you, so whilst you may not offer the same product or service they can still affect your marketing performance.
When it comes to paid search and social, indirect competitors are brands and businesses who share an overlapping target audience or keywords, an example could include
Comparison sites and insurance sites
B2B vs B2C
You can use a simple table to plot out competitors for each scenario.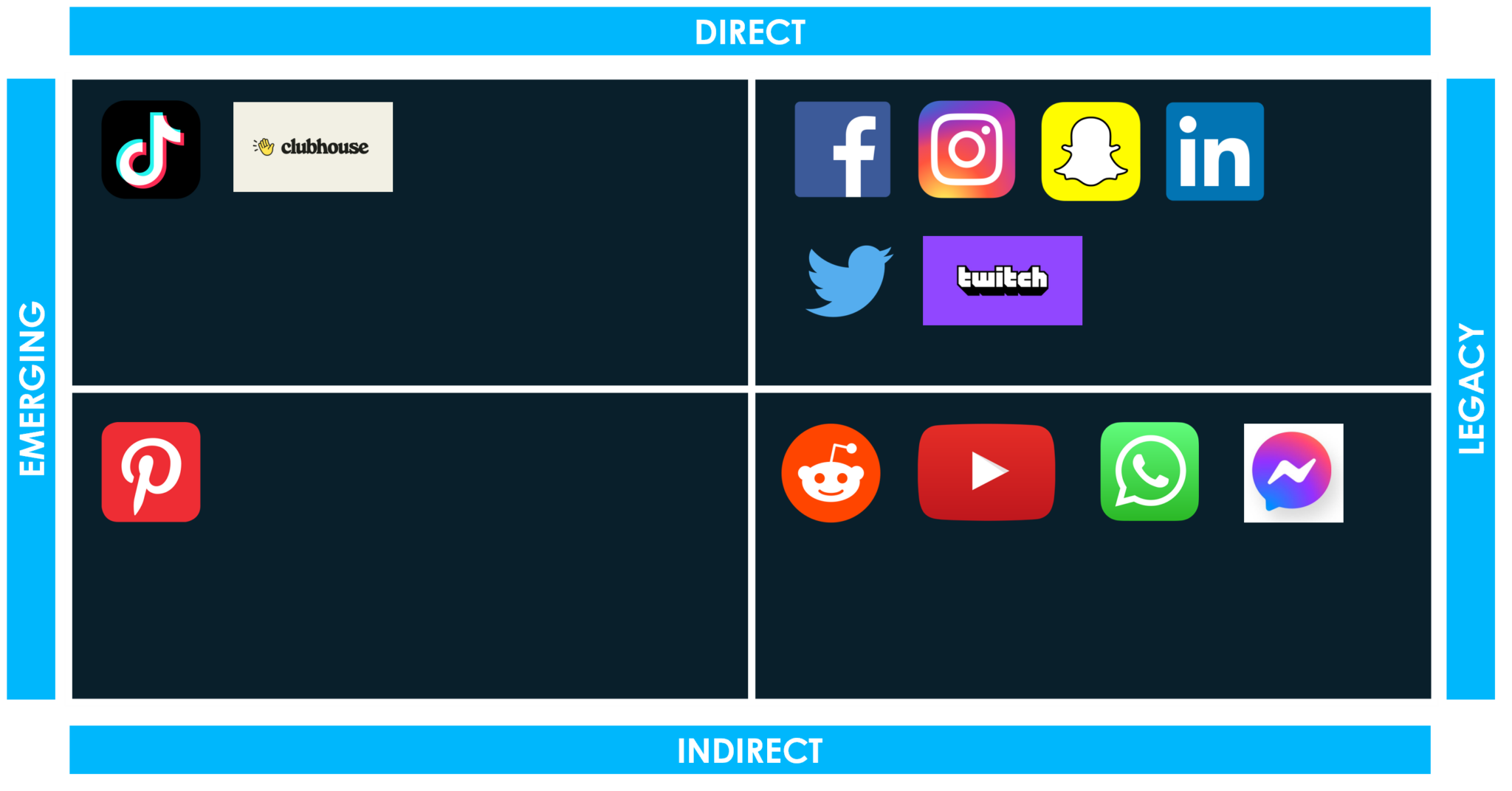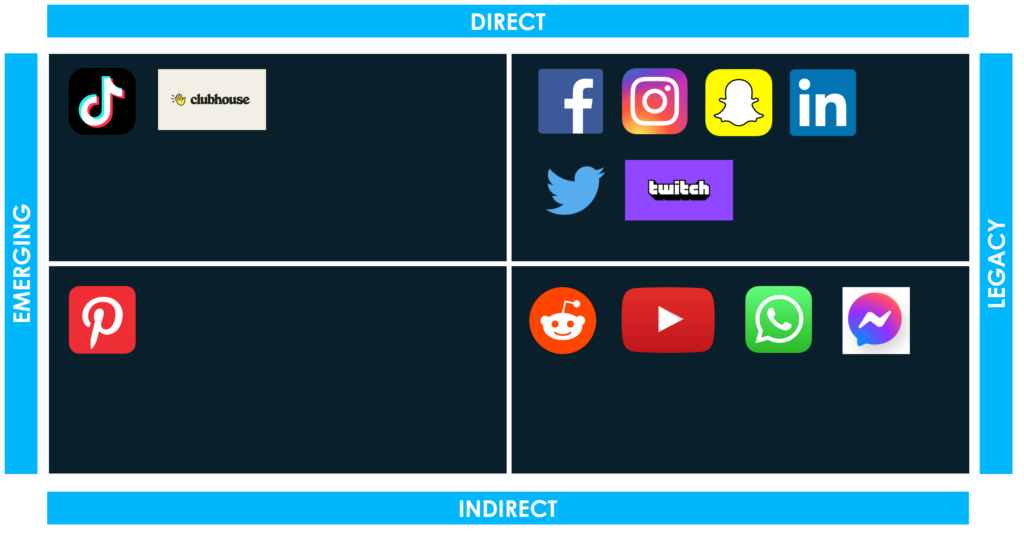 Understanding competitors' organic presence
Understanding how competitors are performing organically, and where you are potentially missing out can help to shape your paid media strategy. By analysing where you are losing organic visibility to competitors, you can develop a keyword strategy through Google Ads to try and capture some of the market share.
You can use tools such as SEO Monitor and Semrush to help track and analyse this, alongside Google Search Console
*Semrush – Keyword gap analysis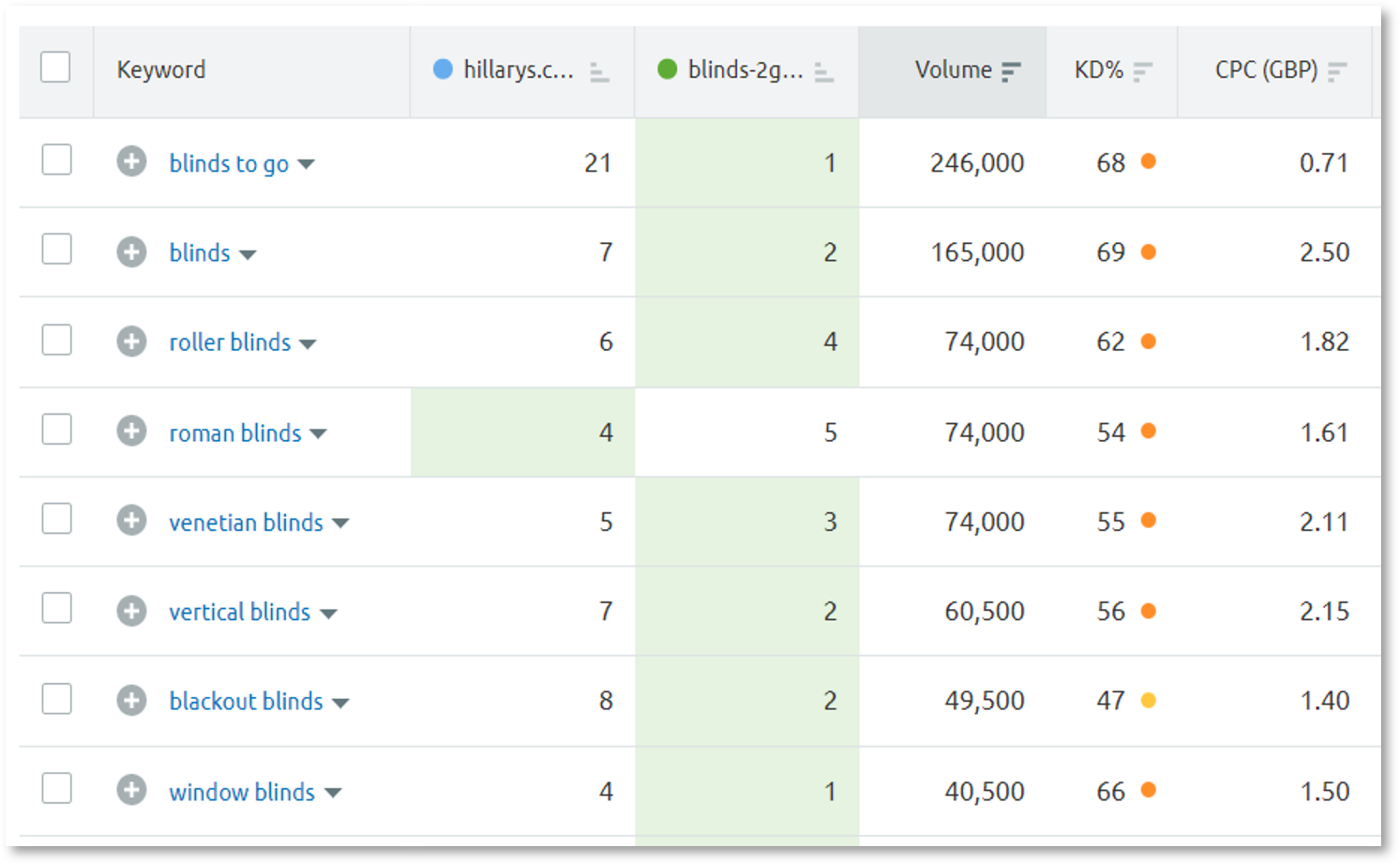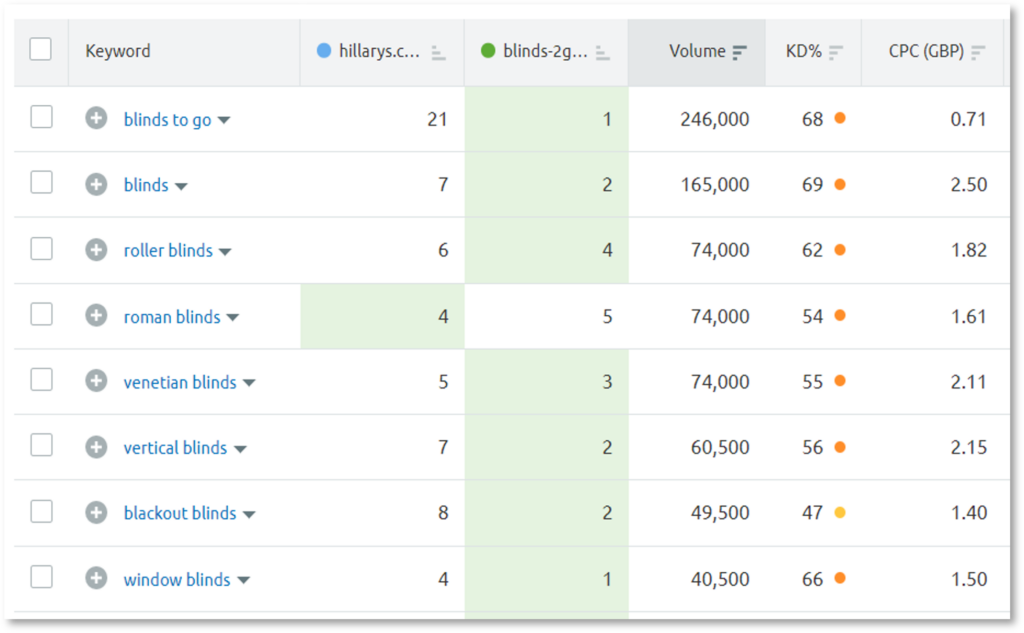 Understand what paid channels competitors are using
You will have to turn detective to dig in and investigate the channels each of your competitors are using. There are in platform tools such as the Facebook Ads Library, and premium tools such as Similar Web that you can use. You will want to build a map of each channel and competitor.
Understanding their positioning and messaging
If you are going to win impressions ahead of your competitors, you need to ensure you are capitalising on this opportunity.
There is no point winning impressions if your message is not effective in gaining the click.
Understanding what messaging your competitors are using can help you to identify:
What benefits they are positioning?
What offers do they have running?
What products or services they are promoting?
What action they are requesting of the user?
You also want to consider how their messaging differs across different platforms, for example between Facebook Ads and Google Search Ads.
Frequency of ad rotation and testing
Using some platform insights and data tools you can establish the frequency of ad rotation for your competitors. This can help you to understand:
How long do competitors leave ads running?

Do they refresh ads each month, quarter or less frequently?
How does this compare to your own ad rotation?
Do they introduce seasonal ads?

What type of creative is used? Is it consistent or does it vary?
Establishing your learnings
Once you have compiled your research, you need to start making your deductions
How do competitors' channel mixes differ from your own?
Is there scope to increase your own presence and gain more market share?
How do competitors' messages differentiate from your own?
The best approach is to roll out testing. It is recommended for all marketing activity to allocate between 10-20% to testing
Paid Search competitor analysis – Google Ads & Microsoft Ads
To understand where you may be missing out on potential market share you can use a number of tools and metrics
Auction Insights
Auction insights can help you to see which businesses are competing for the same searches (keywords) as you
Keep an eye out for new competitors and changes over time
*note it does not display every business and may sometimes differ to what you see if you conduct a search
You can see metrics that can help you to determine the impact these businesses are having on your own ads
It can help you to understand if competitors are more aggressive with their bids and budgets


Using Auction Insights

You need active Google or Microsoft ads campaigns to see this data, and you can see it across search and shopping campaigns
You can access auction insights at campaign, ad group and keyword level
You can segment the data by time to see how advertisers change over time
You can also segment by device to see how your performance differs between mobile, desktop and tablet
You can use Google Data Studio to plot and visualise changes to data over time

Top metrics to review
Impression share – What % of eligible impressions your or your competitors' ad showed for
(Top) % or Impr. (Abs. Top) % – Which % of impressions that you were eligible to appear in a top position for did you actually
Click Share – the % of all potential clicks you actually received
Search top IS – the % of your impressions delivered above organic listings
Overlap rate – Shows how often another advertiser's ad shows at the same time as your own
Position above rate – How often another advertiser's ad appears above your own in the ad auction
Outranking Share – How often your ad ranked higher in the auction than the other advertisers
These metrics help you to identify which competitors are winning clicks, changes to how aggressively competitors are bidding and where you are losing a share of impressions or clicks. With this information, you can decide which bids, budgets and quality scores you need to review and increase to improve your market share and ad ranking.
Ad preview and diagnostics
The ad preview tool allows you to run mock searches, with the results appearing as they would if you were to search live in Google. The benefit is it does not skew impression and CTR data, but you can still see if your ad is triggering, which competitors are present and what messaging they are using.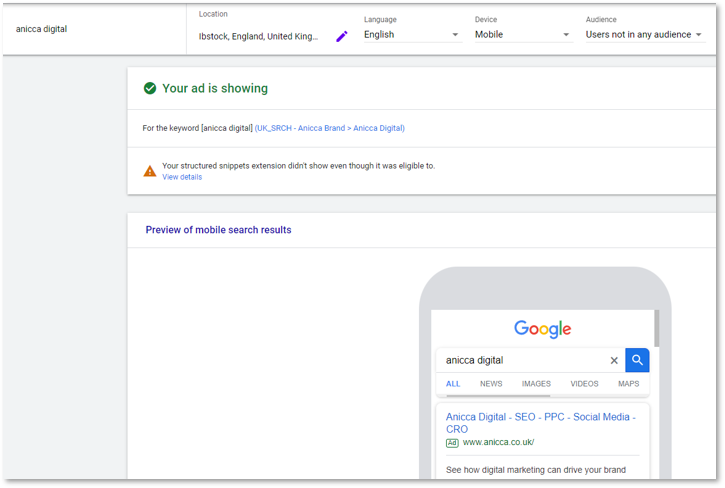 Assessing keyword wins & losses
Impression Share
An impression share above 80% can be considered good
An impression share below 50% is considered low
Top IS
If you want to increase your search visibility you want to aim for 50%+
Click Share
A click share below 50% could indicate that your ad messaging is not resonating with a users search, and therefore you are losing clicks to competitors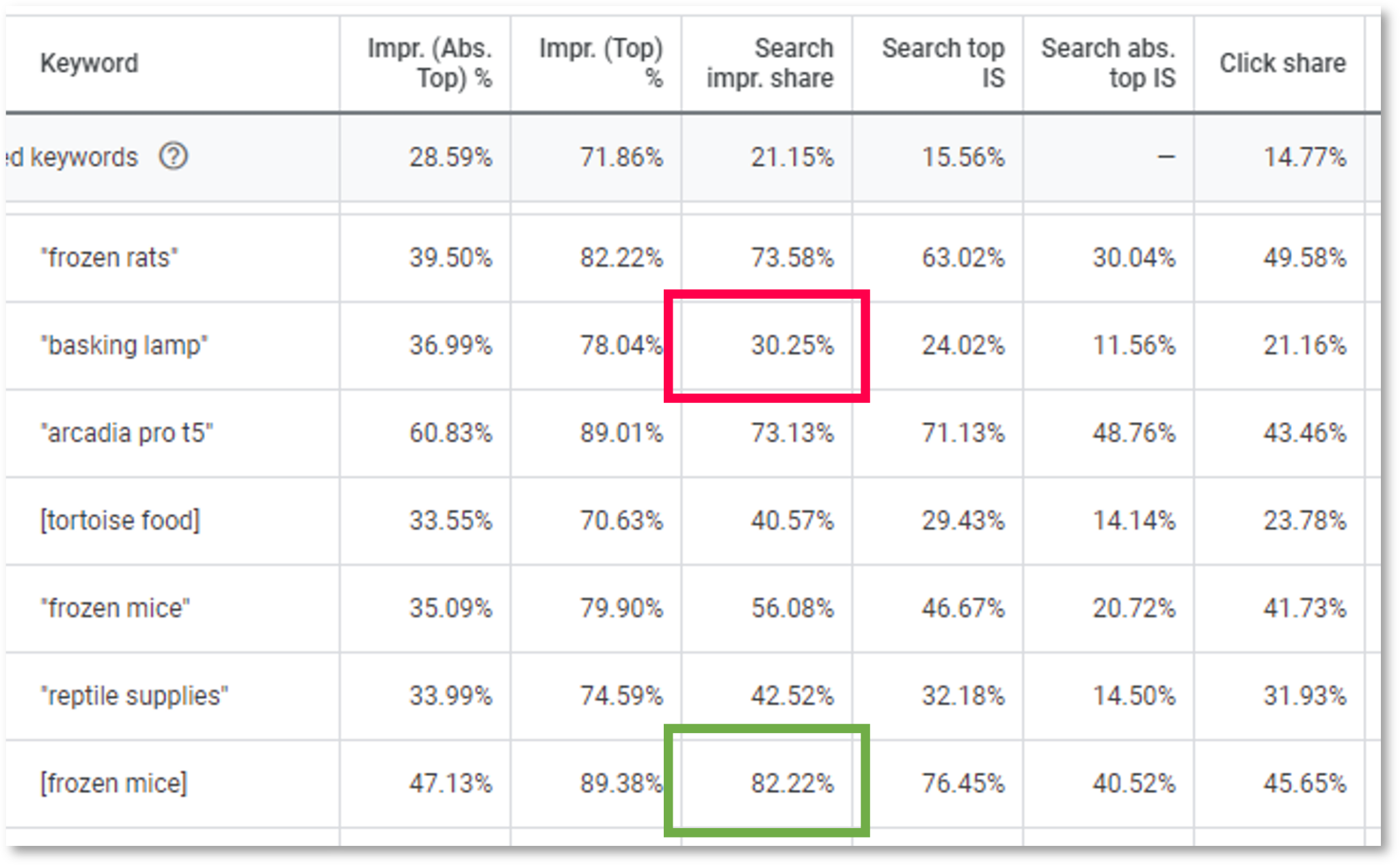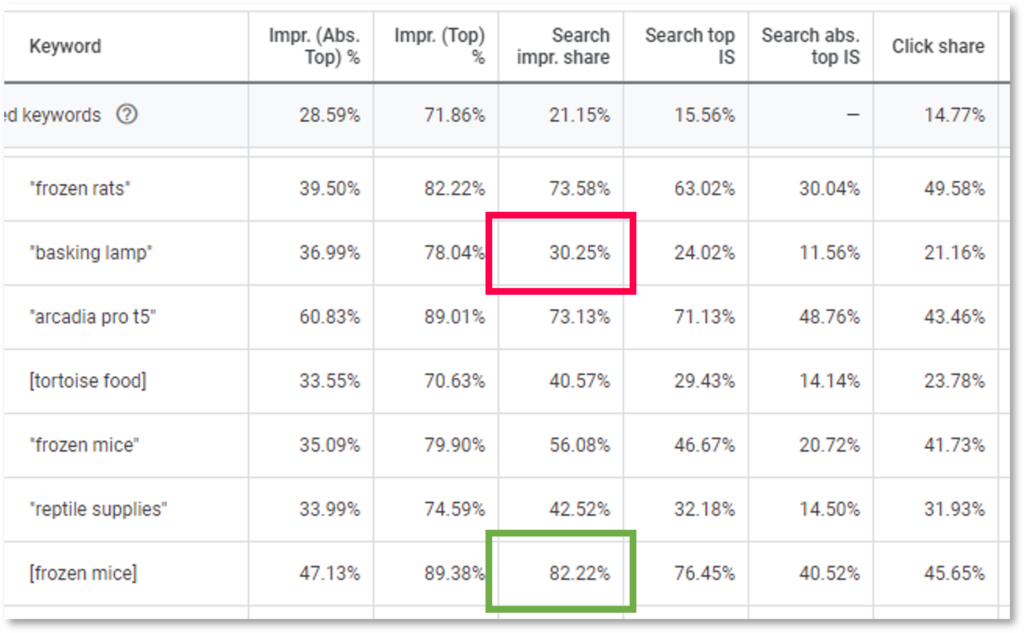 Keyword planner tool
The tool is typically for keyword research, but you can use your competitor's domain in a different way.
Find new opportunities
Understand what keywords and phrases a competitor is optimising for
It shows you how Google reads the pages
You will get the most insight by using and analysing individual page URLs.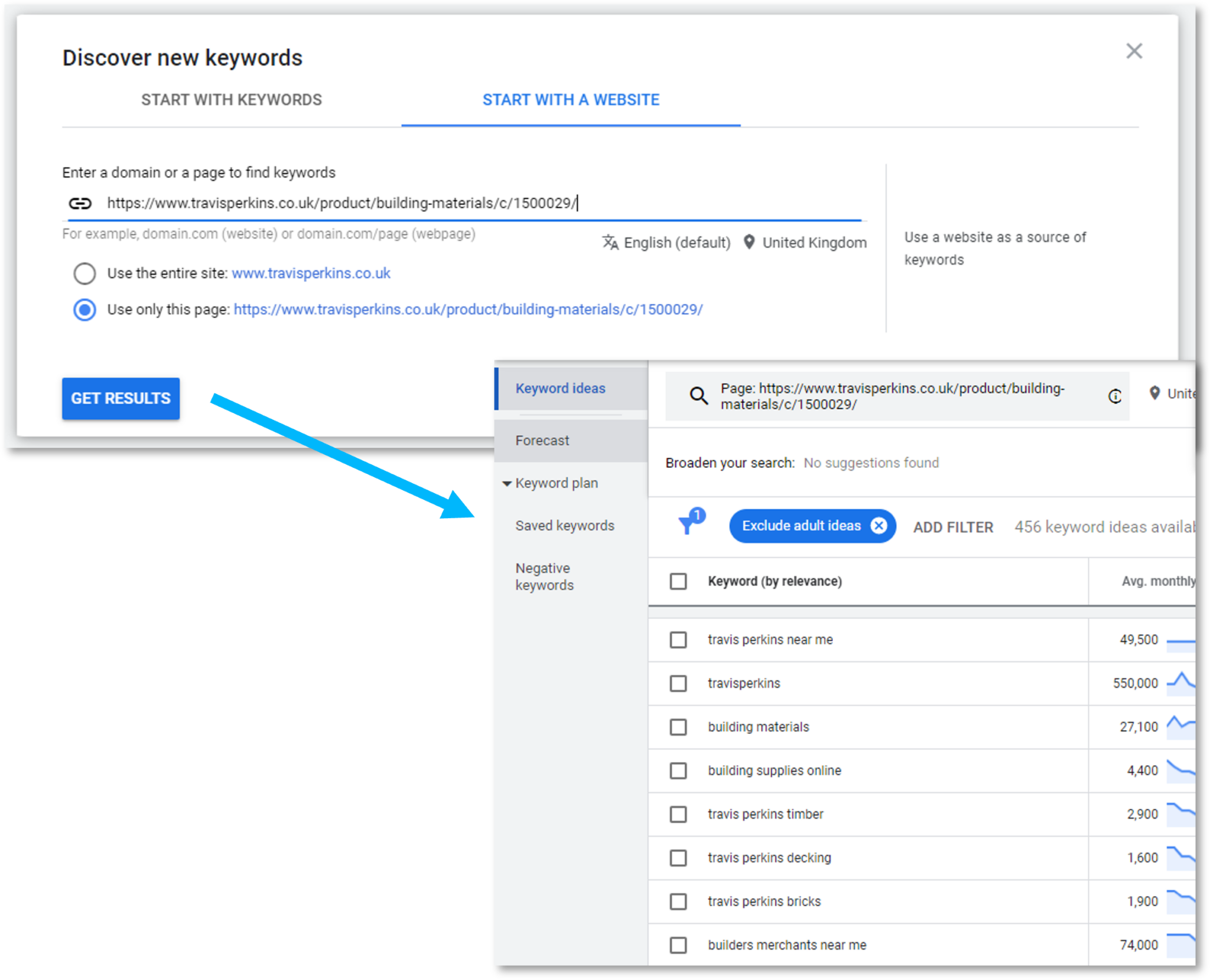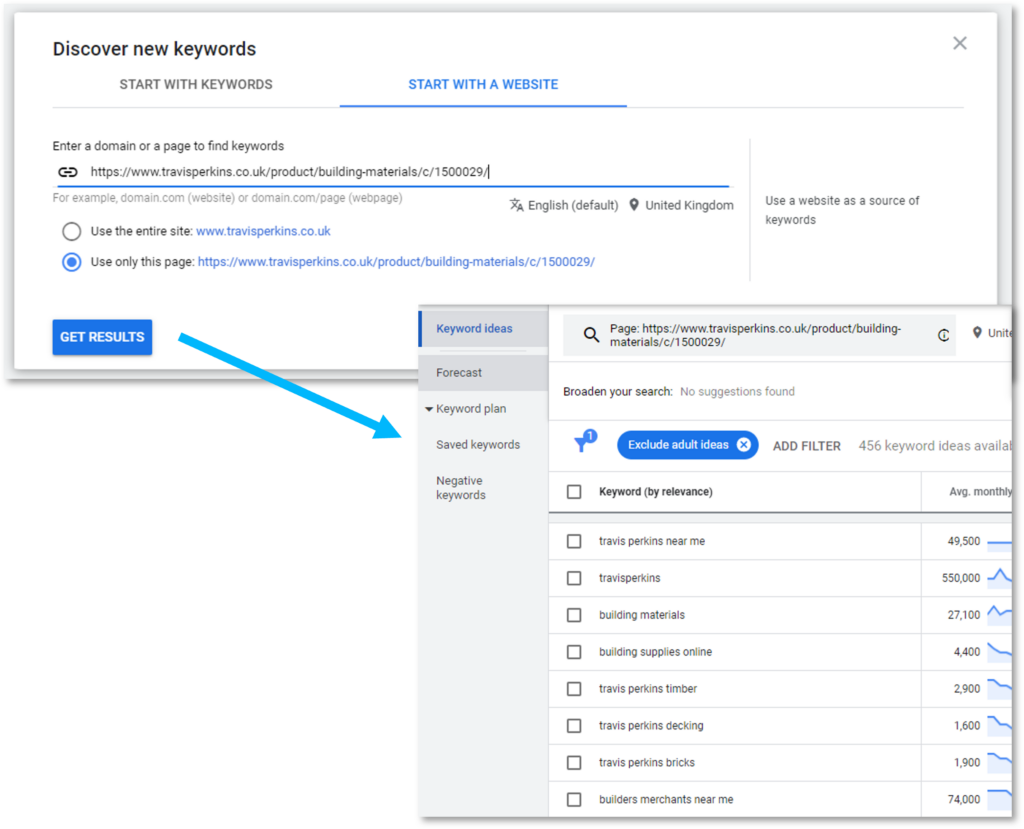 Organic vs. Paid
The report shows performance for when both an organic listing and an ad appeared, or just one of them. You can use the report to understand where you can bolster your ad activity to boost your market share. You can drill down to campaign, ad group or keyword level.

*To use the report Search Console needs to be linked to the ad account
YouTube
Whilst there is no definitive way to see what video ads a competitor is running, one thing you can do is visit their YouTube channel. Once there, you want to look at the view levels for each video, alongside their publish date.
Few videos attract high view counts from just organic activity, particularly in a short space of time.
The exception to that rule is usually around popular tutorials
If their view count is in the 10,000's the likelihood, is they are or have been using such videos in a YouTube ad campaign
You can also review the types of videos that are being used and the frequency they are posted.
Social Media competitor analysis – Facebook (Meta) Ads and LinkedIn Ads
Both Facebook and LinkedIn have built-in functionality to make your job of competitor research a little bit easier. The transparency of both platforms enables you to see what ads are being run by any business.
Facebook (Meta) Ads Library
You can use Facebook (Meta) Ads Library to search for competitor ads that are currently running across the platform. You do not need to have a Facebook account or be logged in to view ads currently being run. You can filter by country and ad category (if your business falls within one of these).
From the tool you can establish:
Details about the page (likes, followers, creation date)
Each active ad
When the ad was first launched
Which platforms the ads are live on
The ad itself (messaging & creative)
Versions of the ad (dynamic content)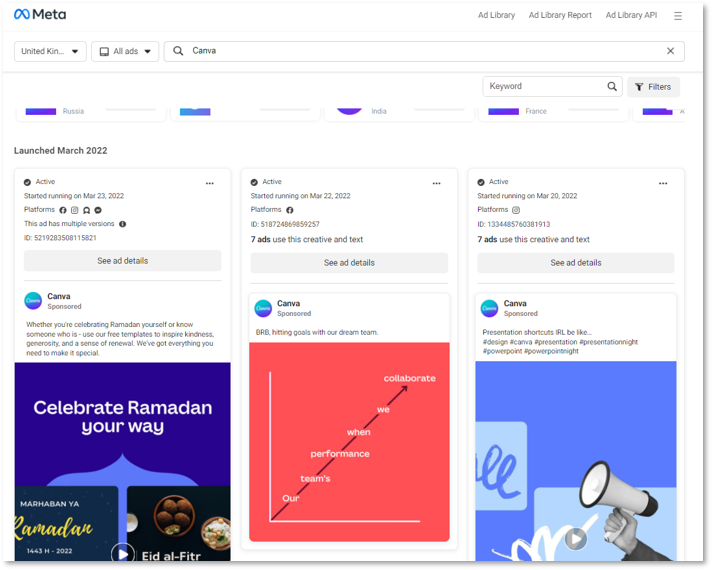 LinkedIn
You can visit any company page on a desktop device on LinkedIn and view ads that the company is running or has been running.
From this you can determine:
Messaging
Call to action
Landing page
Ad creative
Ad Type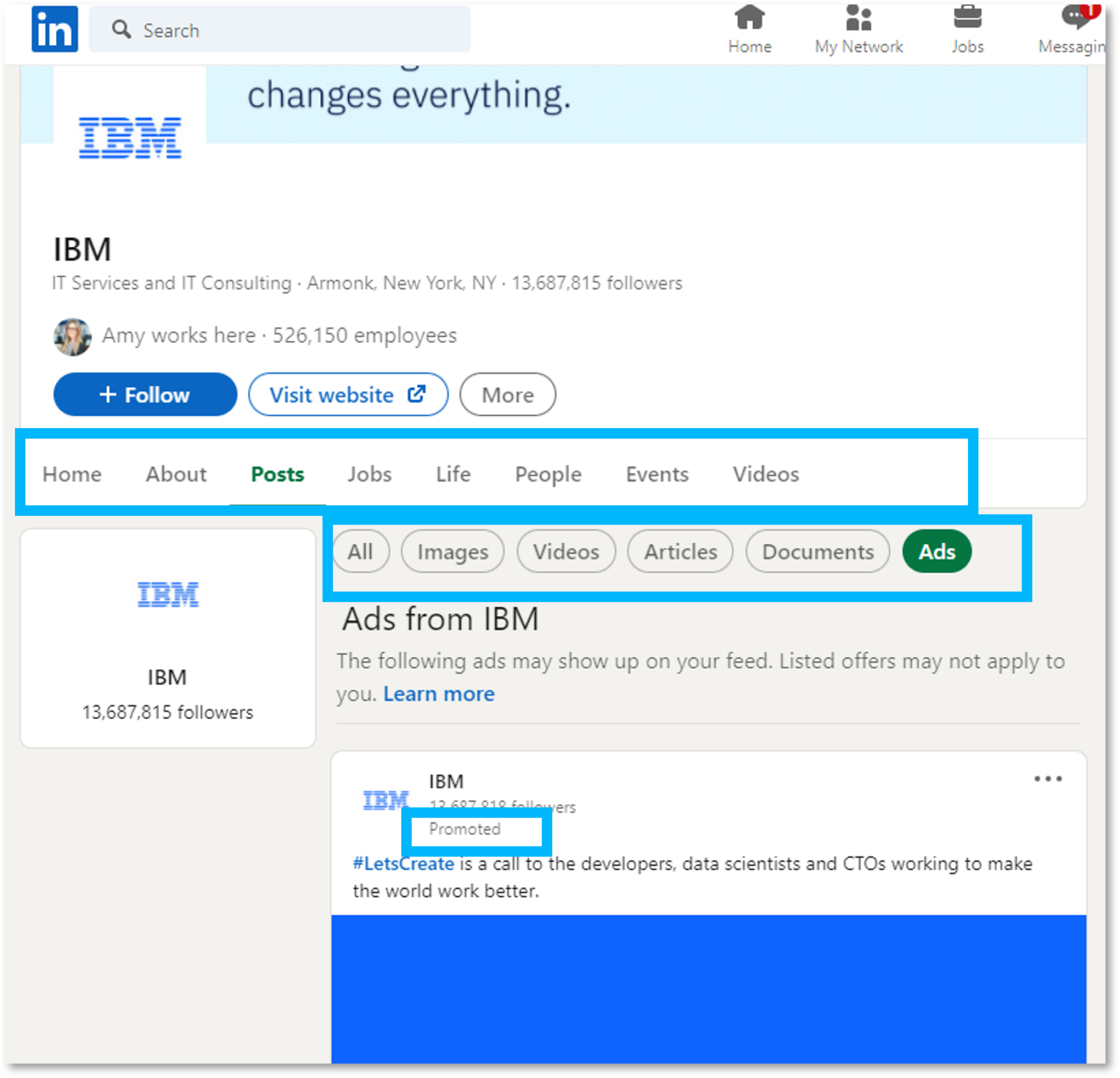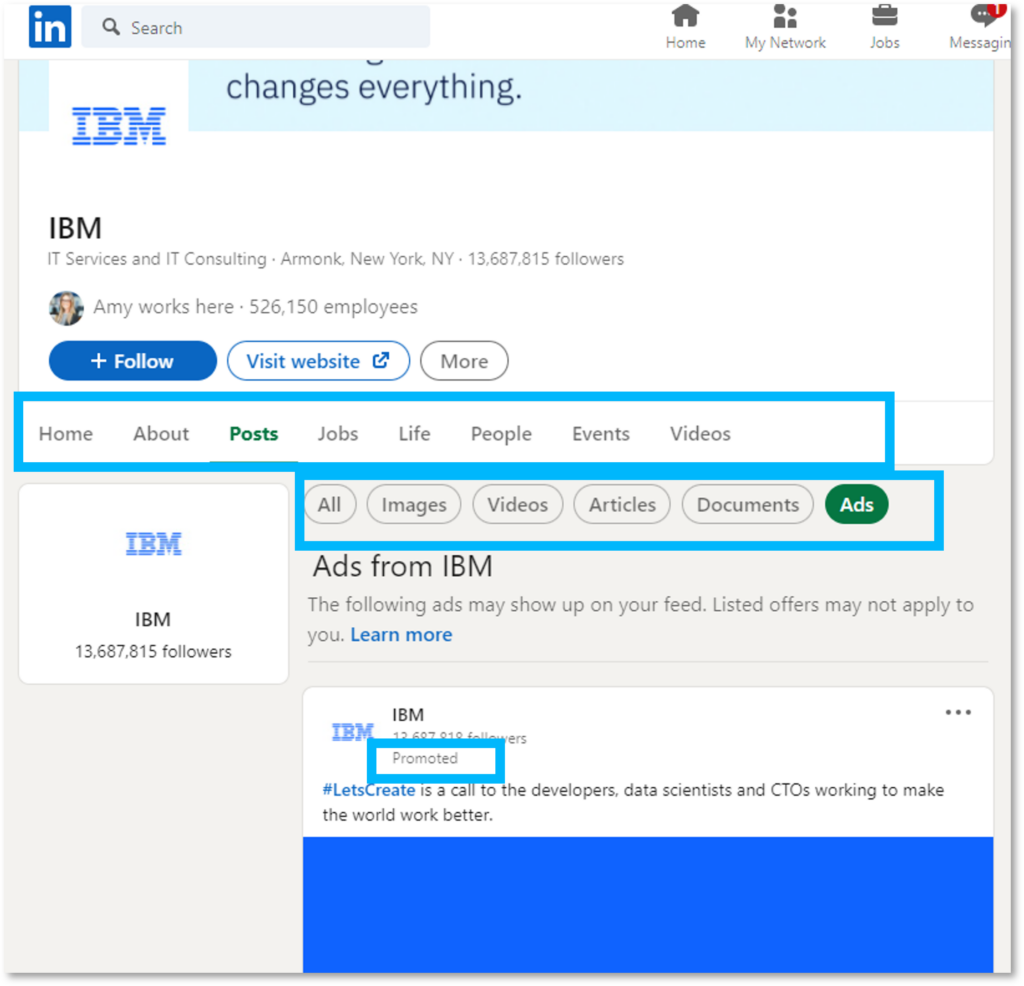 Competitor Analysis Tools
Outside of the data within the platforms, there are numerous tools out there that can help you to analyse competitor activity. Each of these tools use forecasting, APIs and public data to compile their insights. With this being said, none of the tools have direct access to your competitors' data so it is recommended you collate and average data across multiple tools to get the clearest picture. You can also use your own data as a benchmark to see how close or far off the tool's data is.
SpyFu
There is both a free and premium version of SpyFu. The free version gives you access to a limited amount of data which may be enough to get you started if you are just starting out your research or have limited budgets.
Pricing: £
The top features for SpyFu are:
Competitor keywords – analyse and compare what keywords your competitors are using to identify potential new targets for yourself
Competitor traffic levels – see where you sit in terms of market share for website traffic
Ads messaging – review what messaging and positioning each competitor is using
Ad budgets – get a gauge on the level of investment from each competitor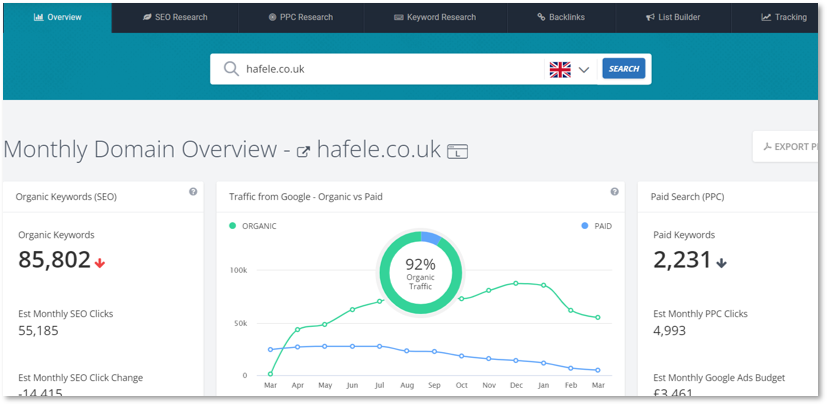 Semrush
Semrush offers free access to 10 data requests each day. These requests however, are sampled and so still only a portion of data is available. You can access a free trial, but you do have to input credit card details to do so.
Pricing: ££
The top features for Semrush are:
Gap analysis – understand where you are missing out on potential traffic
Rankings – understand where competitors are outranking you in the search results
Messaging – review what ads competitors have in play and understand their messaging and positioning
Traffic levels – get a gauge on the traffic levels for each of your competitors to help understand your market share
Shopping ads – review the product listings, including product titles to help understand what products competitors are pushing and how these differ from your own

Similarweb
Similarweb offers a free seven-day trial, but beyond that all access is restricted to paying members. Similarweb is a premium tool that covers competitor analysis across the full digital marketing spectrum
Pricing: £££
Top features of Similarweb are:
Channel usage – insight into which channels for both the market as a whole and each individual competitor is using. It also shows the share of traffic attributed to each channel so you can establish how much focus they are placing on each
Market intelligence – understand general market conditions. Use a predefined industry or build your own out with keywords and URLs
Ad messaging – get insight into what ads competitors are running across search, shopping display and video
Gap analysis – establish where you have opportunities to grow, through understanding where you are winning and losing traffic share
Ad budgets – get a gauge of what your competitors are spending on search advertising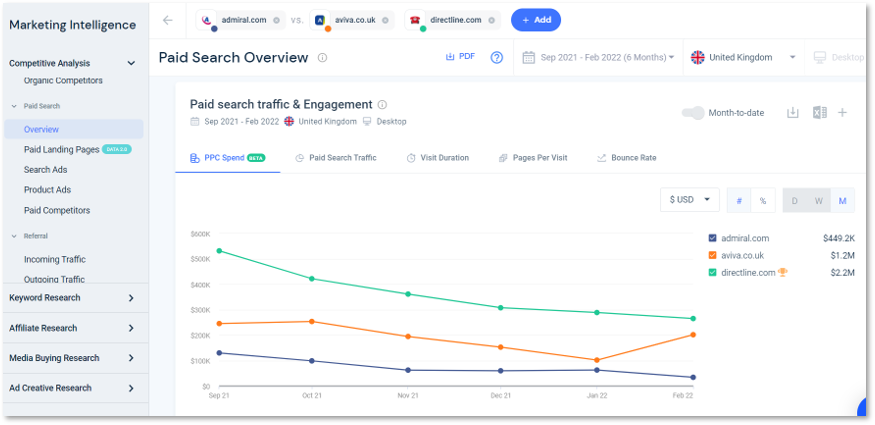 Ispoinage
Ispoinage offers a free trial, and you can access limited data ongoing. Ispoinage focuses on search activity across paid and organic.
Pricing: £
Top features of Ispoinage are:
Keyword targets – understand what keywords competitors are bidding for, which can help you uncover new opportunities and identify where you need to be more aggressive
Ad messaging – Understand the positioning and differentiation of your search competitors
Landing pages – assess the messaging, positioning and CTA of competitors' websites and landing pages
Estimated ad budgets – get a gauge of how much investment competitors are putting into their search activity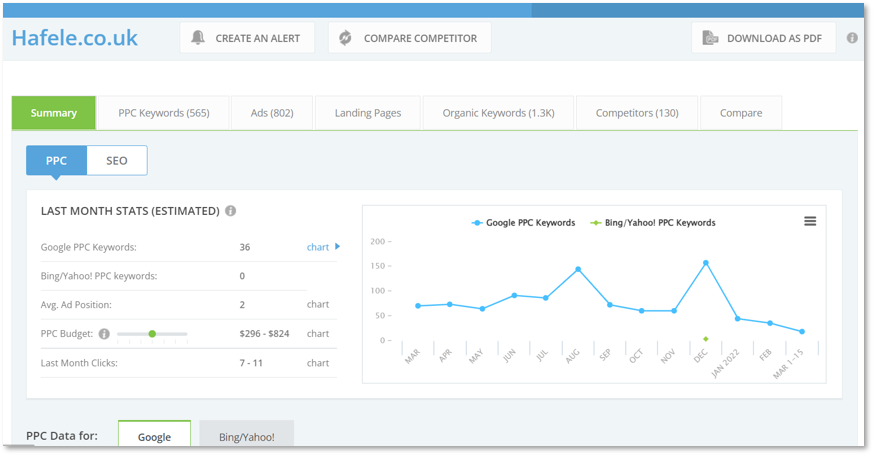 Sprout Social
You can access a free trial from Sprout Social to get a better view of the type of data it provides as a tool. Sprout Social, as the name suggests is specific to your social channels and would therefore need to be used in conjunction with other tools to assess the full competitive landscape. Sprout Social does however, double as a scheduling tool.
Pricing: ££
Top features of Sprout Social are:
Benchmark growth – Visualise and track how your (and your competitors') social channels are growing over time. From follower counts to engagement and post frequency
Check postings – Research and compare posts from different competitors to understand their messaging, positioning and creative
Listening Tools – keep track of key topics and what your competitors are posting about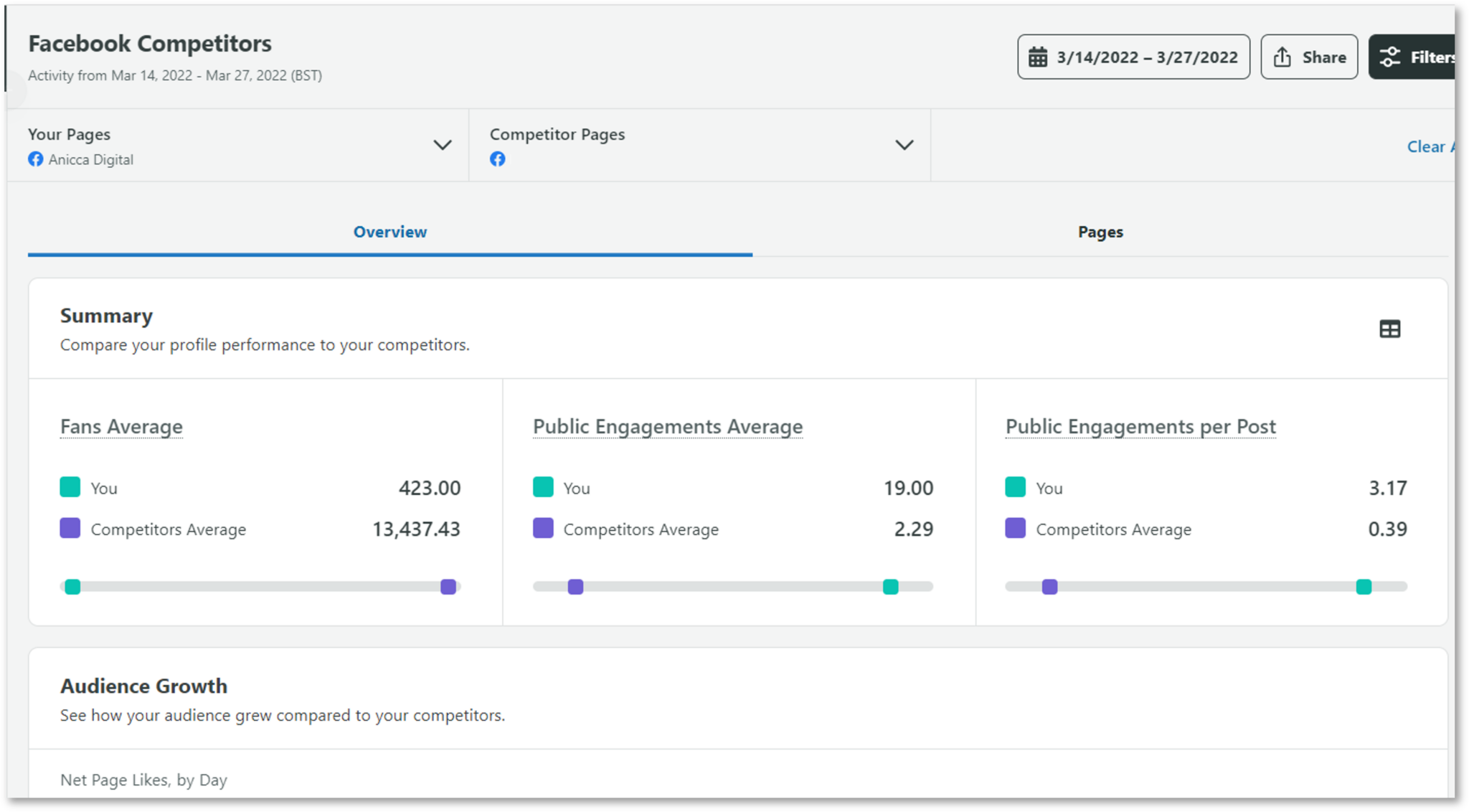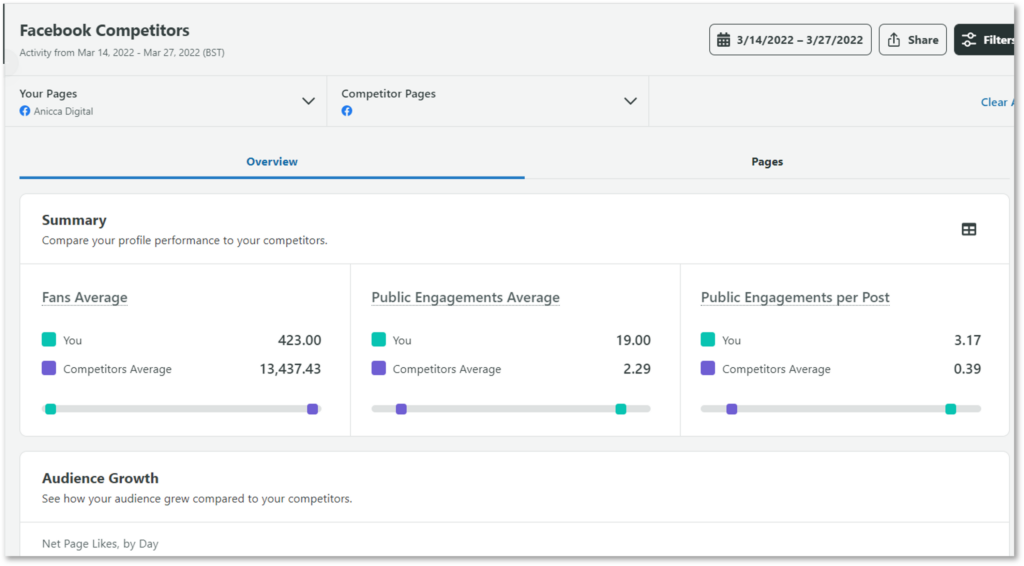 The WayBack Machine
The WayBack Machine is a free tool to help you check in on how a website or specific URL has changed over time. It is a great tool to help keep a monitor for small, or large changes to competitors' page.
Not only can you track when these changes happen, you can also view an archive of the pages to establish what the changes were.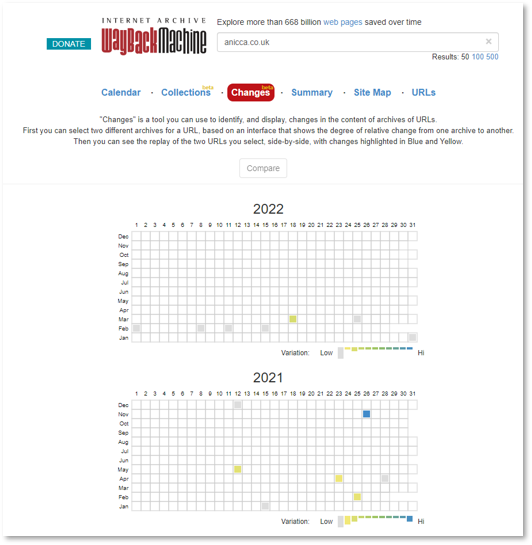 How can you use this data?
Once you have completed your research it is important that you transfer this into meaningful insights and actions
Track impact on your own performance through the use of a Data Studio dashboard. You can connect built-in data sources and also import your own research data from a Google Sheet. It will help you to visualise and monitor changes
Determine if there are any gaps in your marketing activity that you could fill. This could be keywords, channels or locations
You can identify if there are any customer pain points that you can address. Are there any glaring holes in a competitor's positioning. You can use your own customer feedback and also competitor reviews to influence this as well
Determine whether you can gain additional market share through increased bidding and budgets
Overall, make it a habit to conduct competitor analysis regularly. If you aren't doing it frequently it is hard to keep track of the changing landscape. Frequent analysis lets you understand the impacts on your own activity and performance.
If you still aren't sure where to get started but know you need to, or don't have the time or resources to conduct the research yourself, then find out more about our paid media advertising services or get in touch. The team will be happy to discuss how one of our competitor audits can help deliver you valuable insights.