Google Certified Shops (also known as Google Trusted Stores) is a scheme that is meant to reassure shoppers of a retailer's customer service standards. It is effectively an 'e-commerce certification program' that indicates to online shoppers helpful shopping information regarding the service process for that specific retailer – this includes things such as number of issue-free orders, dispatch times and how quickly any issues are resolved.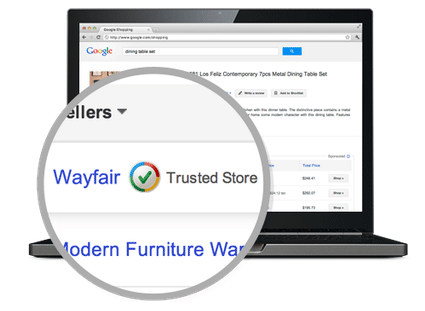 The History Of Google Certified Shops
The program was first started in 2011 in the US, with the primary purposes of being a trustmark for shoppers, being a consumer protection program and also allowing benchmarking between retailers on customer service.  In 2013 the program became available to the UK.
Many online shoppers are often careful about where they shop online, especially if they are shopping on a site they have never heard off before. This certification program is meant to take away that reserved nature to buy from a site by telling the shopper that the site is actually a trusted site by Google – in theory this should help conversions, conversion rates and average order values increase on  your site; and so far recent statistics show that this is the case.
The consumer protection program aspect of Google Certified Shops allows online shoppers to be protected by Google in the odd-chance that the retailer cannot resolve any issues with orders made. Google is taking this trustmark seriously, so much so that it will cover any potential issue (which cannot be resolved by the retailer) by up to £1000 in payment protection. To be protected consumers will need to create their own Google Certified Shops account. They will be able to track orders and write any reviews or complaints they have here too.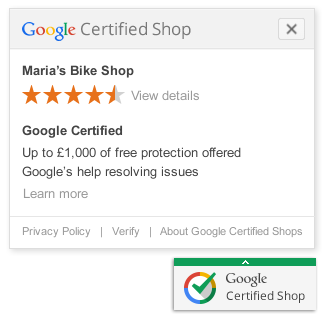 In terms of the benchmarking, retailers will be able to compare or research their competitors' customer service scoring and see in what areas they are superior or inferior.
What's Involved?
To become a Google Certified Shop there are certain processes you must go through. Firstly you'll have to create a Google Certified Shops account.
Once you have done that, you will then need to implement some JavaScript code onto your site (across all pages). There are some things e-commerce retailers should be aware off:
Your shopping basket, checkout pages and confirmation pages must be hosted on your domain site, and not external third-party sites.
(If you have an external payment process, it is important that it redirects to a thank you page on your site once the transaction is complete otherwise you cannot join the program).
You will then go through a 'Qualification Period'. Google will gather data from your site and customers to work out if you are eligible to receive the Google Certified Shops trustmark. This can take anywhere between 30 – 90 days. During this time customers will not be able to get Google's protection but they will be able to take a customer survey (via email) about their shopping experience on your site.
If you pass the qualification period then Google will notify you that your site has officially been approved. You'll also get the added benefit of the Google Certified Shops logo appearing on your PPC (Pay-Per-Click) ads.
How Free Is The Certification?
Although there is no monetary costs to this program, like there is with star reviews, it is fair to say that there is a lot of data being handed over to Google from both the retailers and consumers to be signed up to the program.
Google most likely already has access to your e-commerce data (via Google Analytics) but now it will gain information on whom your customers are, if those who choose to opt in to their customer protection scheme.
It comes down to this: are you willing, as an online retailer, willing to give up information about your company to Google in return for potentially more online sales?