Google has announced a significant change to the way its shopping platform will work, which will now allow any business owner who sells products online to list their items for free. Previously all Google Shopping placements were bid on and paid for within the Google Ads platform.
The plan has been in the works for some time but has now been accelerated by the current Corona Virus Pandemic. The announcement from Google means that shopping will now be accessible for more business, which will be a welcome change in the current business climate.
For consumers it will mean they will now have a far more complete product choice.
Under the new system, some placements within shopping (such as the top placements) will still be chargeable, but it allows businesses to gain free exposure where it was not possible before.
Google's President of Commerce, Bill Ready has said "we're advancing our plans to make it free for merchants to sell on Google. Beginning next week, search results on the Google Shopping tab will consist primarily of free listings, helping merchants better connect with consumers, regardless of whether they advertise on Google."
When will the free version of Google Shopping launch?
The free version of Google Shopping will launch first in the US before the end of April and will be rolling out worldwide over the coming months, so watch this space as we will update you at the time. Below is a glimpse from Google on how the listings may appear.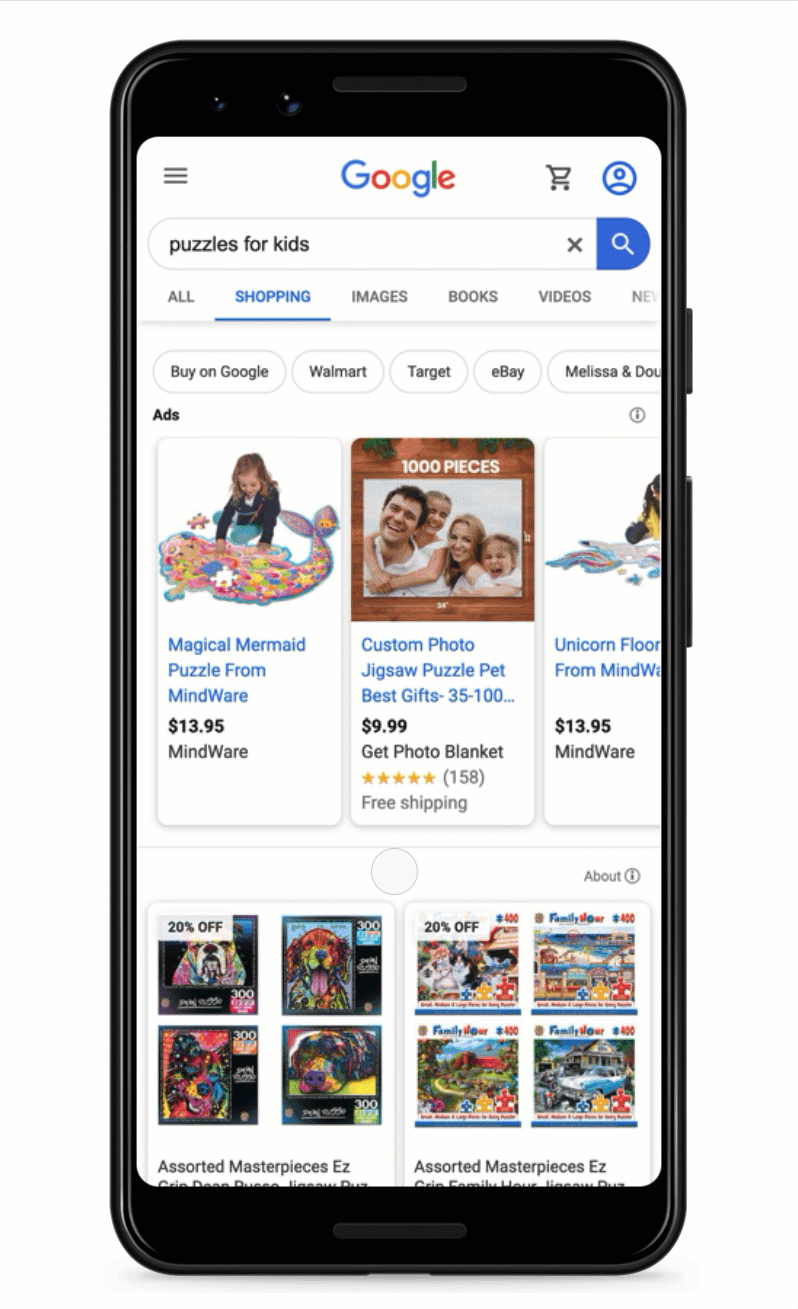 More on the free Google Shopping offering
All of the listings will still run through Google Merchant Centre, but it means that where businesses were potentially just running ads for the most profitable products, where there was room to absorb the cost of the advertising, businesses will now be able to list all other products free of charge.
Unlike the paid ads, the free listings will only appear within the shopping tab itself and not in the SERPs results page. There is set to be a banner of paid listings at the top and bottom of the page.
Along with this Google is also launching a new partnership with PayPal to get merchants up and running quicker. This alongside existing partnerships with the likes of Shopify and WooCommerce means that Google Shopping will be more accessible than ever.
What does it mean for your existing Google Shopping ads?
On one side it means there will be heightend competition within the shopping tab itself, with less 'paid' listings available, so you may see an initial drop in the number of clicks through your paid ads.
That isn't necessarily bad news though, as overtime, through the ability to promote a more complete product catalogue you will be able to generate additional free clicks to your site.
We anticipate over time more and more retailers will be uploading their product feeds to capitalise on these free listings, which will mean a more crowded space for businesses, but also a space you can't afford not to be. Google's teaming up with PayPal looks to be setting the groundworks for a roll out of in platform purchases, which will set Google up to compete with the likes of Amazon. It also likely means as new businesses dip their toes into the world of Google Shopping and start to reap the rewards of increased revenue, these businesses will naturally look to test paid ads as well.
With that in mind, with the free listings in order to gain exposure and remain competitive, it will be even more important to optimise your product data and provide as much information as possible within your feed. You're feed is now a tool for both SEO and Paid Search and optimising for one is going to benefit the other.
How to get started with Google Shopping (we can help!)
To get started, if you haven't previously used Google Shopping, you will still need a product inventory feed which will need to adhere to the same rules on product data and specifications, you can find the latest feed requirements here. There are various methods by which to generate this feed, with Google also looking at its own service for this as well.
If you are not yet set up on Google Shopping and think this is something that you can benefit from, get in touch for a free consultation with one of the team to run through what you can do in advance of the free version launching in the UK so that you are ready when it does. If you are already set up we can offer support on how you can optimise your existing listings to achieve maximum exposure.