The Options and Costs of Using a Specialist PPC Agency and Management Services For Running Your Google Ads and Bing Ads
Paid search or pay-per-click (PPC) are the traditional ways of describing Google Ads (previously AdWords) and Bing Ads because you only pay when someone clicks on your ad, rather than when your ad is seen. These are both essential tools for businesses wanting to increase the traffic to their website in order to generate new sales or leads.
Many small businesses do not understand the technology; finding PPC jargon and the account set-up increasingly complicated. In addition, there is now a mix of manual and automated management options. It is essential to have someone with several months (or years) of experience running your account, otherwise, you can waste significant money on poorly optimised campaigns.
Small businesses that don't want to invest in PPC training, should consider employing a specialist PPC agency to set-up and manage their account(s) professionally.
In this article, we review the types of PPC management services available and how much it is likely to  cost to have your Google Ad account managed by a specialist PPC agency. We also provide a checklist of what you should look for when recruiting a PPC agency.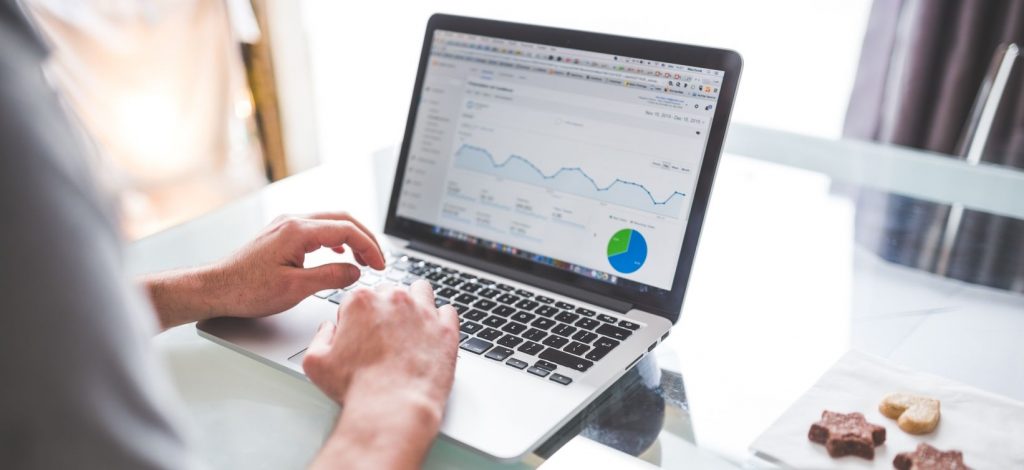 Why Businesses Should Consider Using a PPC Agency
Google is there to make Google money, so if you do not fully understand principles and techniques such as "Quality Score", bid management, targeting, conversion optimisation, remarketing  etc, you may find that you are paying more than twice the price for each click, and what's more, each conversion, sale or lead, could be costing you more than you are actually making!
To make things more complicated, you should also be considering other pay-per-click platforms as part of your online marketing strategy, such as programmatic display, Bing and paid social advertising, including Facebook, LinkedIn and Twitter!
The Main Types of PPC Management Services
There are two main types of PPC management service available to small businesses:
Managed account with separate ad spend and monthly management fee (often with a set-up cost)
Fixed price packages, with all-inclusive clicks and management fees (sometimes with a set-up cost)
In addition, you may be offered other more specialised models, such as pay for conversions or percentage of sales.
1) Managed Account with Separate Ad Spend and Monthly Management Fee
The most common PPC service is the managed account, where the agency charges a separate monthly management fee from the cost of the clicks, which are itemised and charged separately. In many cases, you will be asked to pay the ad spend cost directly, so you will be charged by direct debit or credit card for the amount you spend. Find out more about  Anicca Digital fully managed PPC services
Note: some agencies may not give you access to your account, so they will "own your account", so they pay your ad spend themselves and charge this fee onto you. In rare cases, less scrupulous agencies will inflate the amount you pay for your clicks, as you are not paying the bill it is not possible to see if this has happened!
2) Fixed Price Packages with All Inclusive Clicks and Management Fees
The all-inclusive packages tend to be aimed at smaller companies that want to spend less than £1,000 per month for everything.  This service is often offered by larger Google Partners (such as Yell), who have hundreds or thousands of clients, spending only a few hundred pounds each per month.
Note: With an all-inclusive fee you may not be able to determine how much of your budget is spent on clicks and how much is being spent on the management fee, so where possible you should look for transparent reporting or a minimum number of clicks per month. You must also watch out for dubious schemes where the amount you actually pay is equivalent to very high costs per clicks.
What Type of PPC Agency Will Provide a Suitable PPC Service for Your Company?
You need to identify a PPC agency or specialist that will provide a suitable service for your company. PPC agencies vary considerably in size and expertise, so they will usually specialise in providing service to clients with a certain ad spend.
1) Freelancers and Small/Newer Agencies:
They will tend to target businesses with an ad spend of less than £1,000 per month
They will often offer a fixed monthly fee of less than £350 per month
The time spent on the account  may only be a few hours a month
The size and complexity of the account may be limited, for example, there may only be hundreds of keyphrases and limited modification to the campaign settings
They may lack the expertise to use all the features within AdWords and all the alternative platforms
They may be focused purely on generating clicks and may not set-up conversion tracking or link your account to Analytics
They may not be accredited, as the Google Partner accreditation requires a minimum quarterly spend of $10,000
Below is the old Partner logo, this means they were not eligible to join the new programme at the start of 2022.
2) Mid-Size Accredited Agencies
They will tend to target businesses with an ad spend of £500-£10,000 per month
They may offer a fixed fee or percentage. Generally, the management fees are likely to be more affordable than the bigger agencies
They should be able to offer a full range of features and services; with more complex accounts set-ups.  This is likely to include other platforms; programmatic display, Bing Ads, Facebook and LinkedIn options and use tools like call tracking, product feed management software etc
They should spend more time each month on optimising your account (typically 2 or more days per month)
Depending on their charging model they may try to maximise the conversion rate of your account in order to improve your ROI
They are likely to have a minimum management fee of £500-£1,000 per month, which reflects the amount of set-up and time spent on the account
The agency will probably be a Premier Google Partner, probably with 2 or more account managers each managing around 10 accounts/clients.  You should be able to click on their accreditation logo and see the number of accredited staff they employ
They are unlikely to have their own reporting and bid management tools and will probably use third-party tools
This is the old Premier Partner logo, many Premier partners did not retain their badge at the start of 2022, as they were no longer deemed eligible

The new Premier partner logo for 2022 is shown below, this will be updated each year:. If you click on the logo, you should go to the agency's partner page on Google: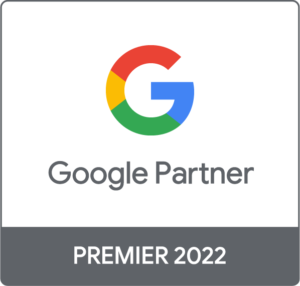 3) Larger Specialist PPC Agencies (sometimes a division of a larger media or a digital agency)
They will tend to target larger customers and may even have a minimum monthly ad spend of more than £10,000
They will probably charge a percentage based on spend or have a minimum management fee based on a set number of days per month
Larger PPC agencies are likely to have at least 10 account managers, some may handle multiple accounts or only one account (if it is larger or more complex)
They will have their own or third-party bid management and other tools in order to handle very complex and large national (and possibly multi-lingual accounts)
PPC Management Pricing Models
Agencies that offer ongoing PPC management will adopt different pricing structures:
Set-up fee (may be invoiced separately or included in the monthly fee)
Fixed monthly fee (often banded according to the size of the ad spend)
Percentage of ad spend (typically 10-15%), often with a sliding scale and normally with a minimum monthly amount
Hourly rate depending on the amount of work undertaken
The amount you expect to pay per month depends on the following factors
The minimum monthly fee will vary according to the size and experience of the agency

Individuals or small agencies will charge from £350/month
Larger or accredited agency will probably have a minimum charge of £1,000 per month,  irrespective of whether they charge a fixed fee or a percentage of spend

The total amount you pay will vary according to the amount of ad spend, there is usually a sliding scale or banded fees depending on the ad spend, as this will be indicative of the size and complexity of the account
You may be charged in proportion to the amount of work involved or promised each month
Factors to Consider When Choosing a Fully Managed PPC Service
1) Level of Experience
Is the agency accredited (Google Partner, Bing Agency Partner)?
How many accredited staff do they employ?
What is the level of experience of the person managing your account?
What other pay per click platforms do they offer (other paid search, paid social)?
What other services do they offer –SEO, Analytics, conversion rate optimisation (CRO)?
2) Contracts and charging
What is the minimum contract period?
Do you own the account at the end of the contract?
What is their charging model?
Will the agency work to get your costs down if they are paid a percentage?
Level of transparency –can you see Google reports or only the agencies reports?
3) Technologies Used
Do they have bid management and/or use their own technology?
Are there extra charges for bid management tools and API charges?
What reports will you receive?
Find out more about Anicca Digital's fully managed PPC services.
You can call the Pay Per Click team on 0116 2987496 or contact us or via our online contact form below.
You might also be interested to take a look at our article on "How Much Does SEO Cost? SEO Pricing Models Explained".