In PPC there is a world of opportunity and data available, you just need to know where to look.
When it comes to tools and resources there is usually a subscription fee involved and if you're lucky you might benefit from a free trial. Over my years in the world of PPC, I have come across several free hidden gems that provide a tonne of insight for no cost at all. Yes, you read that right they are all free to use, and I am going to share my top 10 with you in this blog.
Still got your attention? Well, let's get to it, read on for some free PPC tools that may just make your PPC management a little easier.
Free Keyword & Expansion Tools
Targeting the right keywords, along with growing an account is a key pillar in paid search management to really maximise the account's potential.
So, where do you go when inspiration runs dry to discover new keyword targets and understand the possible reach and potential these keywords may hold, as let's face it, even if a keyword is super relevant to your business, a keyword that attracts no search volume isn't going to yield the big account growth and traffic volumes you are looking for.
I have compiled my top free tools to help you mine new keywords to expand the reach and relevancy of your account
Google keyword planner
Where else to start than in Google Ads itself. The keyword planner tool in Google allows you to search for new keyword targets, check historical search volume data and forecast potential results within your own account.
While these figures should always be taken with a pinch of salt, as so many other factors are at play such as competition, ad relevance and bidding strategies they do give some insight and a ballpark of where you may expect to be in terms of reach and performance.


Google's keyword planner tool is unique in that your account history can influence the data that you receive for forecasts and search metrics.
To get started you need to supply several top-level keywords or a website URL for Google to draw context from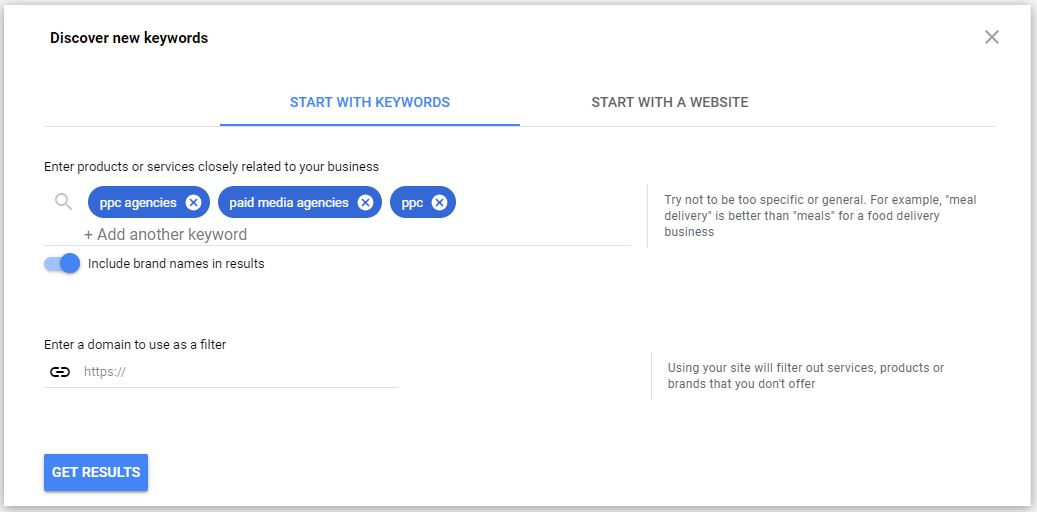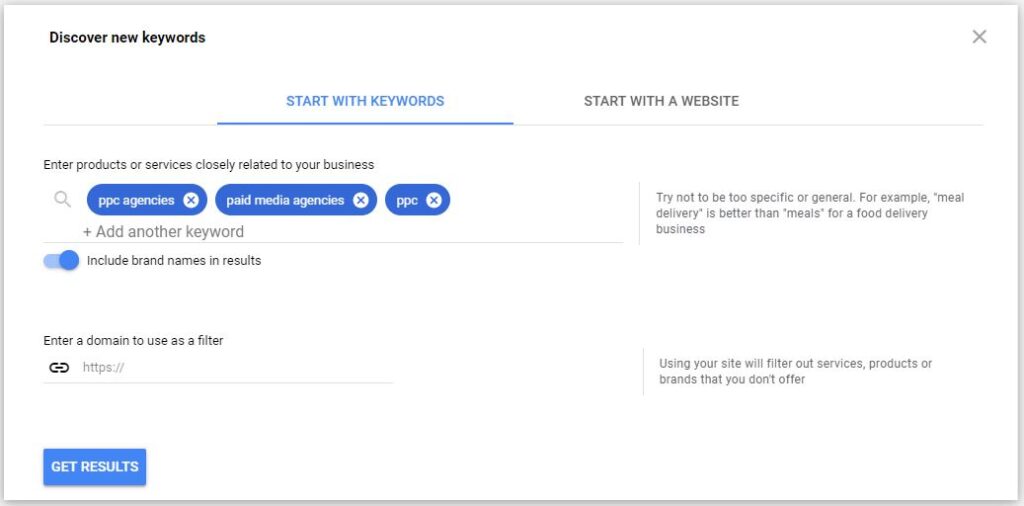 You can place filters onto the keyword results to narrow down the pool and you can refine by location, add negatives if there are certain words you want to exclude, or set terms that must be contained within the keyword.
Note: You will need a Google Ads account to use the keyword planner
Keyword Tool.io
The Keyword Tool is another great platform to source new keyword inspiration. As with Google's keyword planner you can specify the country in which you want to draw keyword data from.


With the Keyword Tool you supply one starter keyword and it will return a list of related terms and again you can add filters if you want to exclude certain terms or find keywords that contain specific words.
In the free version, you can't access search volume or CPC data, but you do get a view of the suggested keywords that you can use to expand your account.
With the tool, you can also use it to source keywords for YouTube targeting, Amazon and eBay.
Answer the Public
Answer the public is a great place to start for keyword research and allows you to research and display keywords in a more visual way.
To get started you need to enter a base keyword, select the language you are searching in and hit get questions.


Keywords are then segmented into different groups including questions, prepositions and comparisons. Answer the public gives you more sentence and human-like searches terms.
You can extract the keywords returned and work through to deem which ones are relevant and of use.
Microsoft Ads Intelligence
Microsoft Advertising Intelligence which runs as an extension in Microsoft Excel allows you to expand your keyword coverage based on the keywords you already have in your account. Despite being reported within Excel you still get access to relevance, search volume and cost history.


To use the tool, you need an active Microsoft Ads account and will need to sign in and select the account and campaigns you wish to use.
Free Google Ads Account Tools
Google Ads Editor
Google Ads Editor is a free tool developed by Google that allows you to download your accounts and make changes offline before publishing to the live account. You can edit existing campaigns, ad groups, keywords, and ads including settings applied as well as upload new campaigns and ads.
You can make changes across all your campaigns with ease through bulk editing tools which allow you to search and replace text, move and copy items from one campaign or ad group to another and upload new campaigns and ads in bulk.
Best of all because this all happens in an offline environment everything you do is in draft mode and you can review all of your changes before you post them. You can also export and import files so that you can share any changes with relevant parties.
WordStream Free Google Ads Performance Grade
Wordstream's Google Ads Performance Grader works as a little bit of an audit for your account and gives you feedback on the current standing of it. It will identify things such as wasted spend and account activity within the last 30 days, as well as grading the use of long-tail keywords and text ad quality.
All of this comes in a neat little report and provides you with a basis of where account optimisations and improvements could be made.
Free Display Ad Tools
Moat
Moat is a website that can provide you with insight into what display ads your competitors have run, the downside, it doesn't have every business that has ever existed.


If your competitors are big enough then all you need to do is input their name and Moat will start to send back suggestions of the business, you may be looking for. Once you select the business, sit back and watch as the display ads populate before your eyes.
Display ads are notoriously hard to track as you can't just go to Google and search for them, so Moat provides a great avenue to check in on what your competitors are doing.
Unsplash
Unsplash joins the likes of Pixabay and Pexels as a free image sourcing tool. I have found that Unsplash has a larger and more unique variety of imagery available and fast became my go too.
You can put in your own specific search or use the categories located across the top navigation bar to browse at a top-level view.


Canva
Canva is one of my favourite free tools out there. The tool allows you to create professional-looking banner ads, posters and more. You can make use of the numerous free templates available or work with different shapes, images and segments to create your very own.
You can upload your own images and logos and select fonts and colour schemes that are in keeping with your brand.


If you are to use the tool more seriously then there is also a paid-for premium version which opens additional stock imagery and templates
WordStream's Smart Ads Creator
Another great tool from Wordstream is their smart ads creator it allows you to create smart-looking animated ads without the need for a design tool. You supply the tool with your website URL and it crawls it for colour schemes, fonts and images.
You can select whether the ad objective will be leads, sales or brand awareness which influences the design of the ads.
Once the ad has been generated you can make edits to the text, images, logo, font and colours selected to customise it within your brand guidelines.
When you are happy you just need to hit finish and email and the new ads will be waiting in your inbox for you.
Summary
So, there they are, my top 10 free tools for working on Google Ads account, some are even valuable for work across other channels such as social media as well.
If you are unsure of where to go next with your PPC account then get in touch about one of our PPC and website audits.