Have you ever wondered how your ads compare to your competitor's ads? What is your market share on the Google search or display network? How often are your ads NOT shown even when they could be? All of these metrics can easily be found in AdWords, however, their potential is often overlooked.
Competitive metrics can tell you how often your ads appear alongside other advertisers who use the same keywords (search network) or targeting (display network) as you do. Not only will you get a percentage of the impression share you are capturing, but you'll also see metrics describing how much of that impression share is lost due to low bids or low budgets. (Read more about Impression Share metrics here)
This data can help you to improve the performance of your campaigns, increase your share of voice and enable you to allocate resources more effectively.
You can enable these metrics at the campaign, ad group or keyword level, to see exactly where the opportunities are, note that not all the metrics are available on every level.
Where can I find competitive metrics?
To enable these metrics in AdWords, navigate to the "Modify Columns" button and enable the ones you're interested in from the menu.

You'll need to add these metrics to your campaigns, ad groups or keywords separately.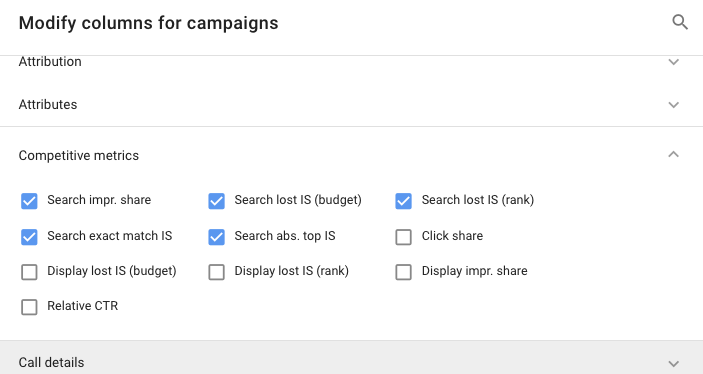 Let's take a look at the most important ones and how to use them.
Search Impression Share (IS)
This shows the percentage of impressions your campaign / ad group / keyword has received out of all the impressions you were eligible to receive.
Use this metric as a quick snapshot to understand where you currently are in the market space and what's the overall size of the market. This is especially important when it comes to strategy planning and resources allocation.

Search Lost Impression Share (Budget)
This is the percentage of time that your ads weren't shown on the Search Network due to insufficient budget. This data is only available at the campaign level.
It's important to keep an eye on this metric to ensure that your well performing campaigns are not missing out on potential traffic and conversions. Should this happen, review your targeting, mine your search terms for negative keywords or introduce ad scheduling and bid modifiers. Alternatively, allocate more funds from under performing campaigns until your impression share lost due to budget is 0%

Search Lost Impression Share (Rank)
Estimates how often your ad didn't show on the Search Network due to poor Ad Rank.
Relevancy is the key here. Having ads directly relevant to the targeted keywords and the keywords relevant to content on your landing pages goes a long way. Not only does your quality score go up but your ads will be shown to more people.
In addition to relevancy, we have found a strong correlation between your cost per click and lost IS due to rank. To put simply, the more you pay, the more you get.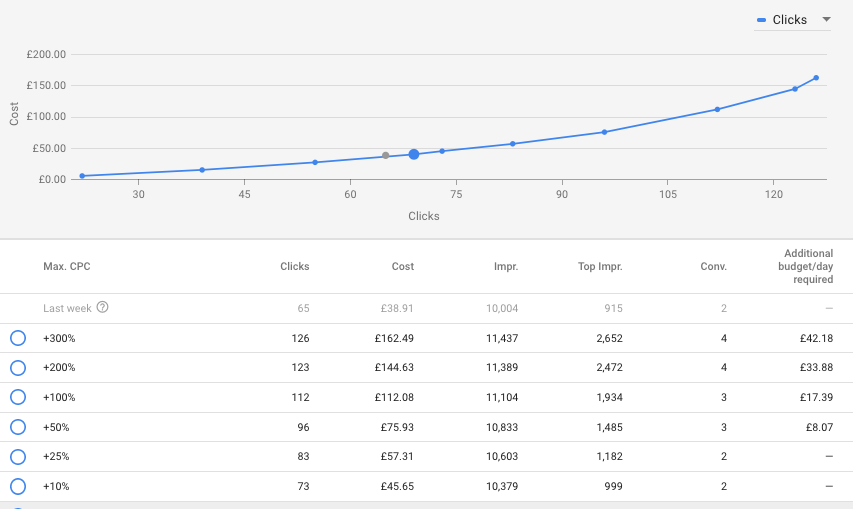 Search Exact Match Impression Share
This is the impressions you have received divided by the estimated number of impressions you were eligible to receive on the Search Network (for search terms that matched your keywords exactly or were close variants of your keyword).
If this number is really low for your broad match keywords, you're not being specific enough. Your broad match keywords are picking up a lot of less relevant search terms and therefore your ad relevancy, one element of quality score, will suffer.
Review your search terms on a regular basis and add more negative keywords to the campaign.
In addition to the main search metrics mentioned above, there are similar metrics available for display and shopping, which are explained briefly below:
Display Impression Share
The impressions you've received on the Display Network divided by the estimated number of impressions you were eligible to receive.
Display Lost Impression Share (budget)
Display Lost impression share due to budget estimates how often your ad didn't show on the Display Network due to low budget.
Display lost Impression Share (rank)
Is the estimated percentage of impressions on the Display Network that your ads didn't receive due to poor Ad Rank.
Search Absolute Top Impression Share
Is the percentage of your Shopping ad impressions that are shown in the most prominent Shopping position.
With the rising cost of online advertising, it's vital to understand how you stack up against your competitors within the digital marketplace. Knowing how to use these competitive metrics effectively can have a significant impact on your bottom line and allow you to allocate your marketing budgets more effectively.
Are your campaigns losing Impression share? Request an audit from Anicca Digital today for advice.