Over the last few years, the term 'SEO' has become more prominent within the business and marketing industry. A few years ago, if you mentioned SEO to someone they would simply look at you with a glazed expression. Nowadays, people have a rough idea of what you're talking about and it's not just something 'to do with computers'.
If you have just set up your own business or are looking to expand your marketing knowledge, then this guide will teach you the basics of how to do SEO for your own website to prepare you into the world of online marketing. You'll learn what SEO is, how Google chooses where a website ranks, how to get started as well as some handy free and paid for tools you can use to make life that little bit easier. If you only want information on one topic, feel free to click one of the topics below and skip ahead.
Contents:

What is SEO?
SEO (Search Engine Optimisation) is the process of increasing a website's visibility and traffic through the unpaid 'organic' search results on search engines such as Google and Bing. By making your website appear higher up in the search results, you will ultimately receive more visits to your website and ideally convert to more sales/leads.  SEO is not just for organic search results, you can optimise your website's images and have them appear in Google image searches which will attract additional visitors to your website. Not only that, if you're a local business, then Google uses a slightly different approach to ranking sites within the local packs. We have a handy guide for getting your local business to rank, which you can read here.
SEO is made up of three main components: Technical SEO, on-page SEO and off-page SEO. These three components are essential to getting your website to rank high. In this article, we will focus on the on-page and off-page aspects of SEO, but if you would like to learn more about technical SEO then our essential technical SEO guide is well worth a read.
Understanding Google Algorithms and Penalties
Historically, Google has used various algorithms to assess when most of which are now incorporated into one core algorithm. These algorithms look at different parts of your website to detect whether the website abides by Google's guidelines, how the website is optimised and what types of websites link back to the website. Let's break down the most important algorithms.
Google Panda
The Google Panda algorithm was first launched in February 2011. Initially, the algorithm affected around 12% of search queries, which in the grand scheme of things is a huge number of queries. Panda targeted thin content and content farms, so many sites which spun articles (posted the same article on multiple blogs) were hit and suffered a ranking loss.
Google Penguin
Launched in April 2012, Google's Penguin Algorithm targeted webspam and initially affected 3.4% of English queries. Penguin focuses on a range of webspam, but mainly targets websites which may be part of link schemes or appear to be buying links to try and manipulate the search results. This posed a real threat to webmasters because once your website was hit, you would need to wait until the next algorithm refresh before you could see whether you'd fixed the issue or not. In September 2016, Google announced that Penguin was now part of the core algorithm and ran in real-time. It also announced that rather than penalising websites, Penguin would devalue the poor-quality backlinks to a website.
Manual Action Penalties
Unlike Panda, Penguin and various other algorithms, Google's manual action penalties are, as you'd expect, manual. Webmasters who were handed manual action penalties would find a message within their Search Console account with information about the type of manual action they'd received. These ranged from unnatural links to your site, thin content, hacked websites, hidden text/keyword stuffing and many more. Websites issued with manual actions were virtually wiped from the SERPs (Search Engine Results Page) until they fixed the issue and submitted the website to Google to be reviewed.
If you'd like to find out more about the various algorithms, there is a handy timeline of algorithm updates on the Moz blog.

How Does Google Know Where to Rank My Website?
Google takes into account over 200 factors when looking where to rank a website. These include everything from your page title, URL structure and on-page content to the types of links pointing to your website and the website design itself. According to Branded3, the top 10 most important Google ranking factors in 2018 are as follows:

Ranking Factors 2018
If you don't fully understand the list above, we can break this down into the following:
Links to your website
On-page optimisation
Click through rate/bounce rate
Mobile friendliness of your site
How many people search for your services along with your brand name (eg Nike trainers)
How fast your website loads
Is your website responsive?
How many people click through to your website from Google
Is your content unique?
Is your website secured with HTTPS protocol?
As with all studies, this is not gospel, but simply the findings of research done by the company. You can view a range of studies like this by searching 'google ranking factors 2018' and you will find that most studies will list similar factors in the top 10.
So, what can you do to influence how Google ranks your website? That's where SEO comes in.

On-Page SEO
What is on-page SEO?
In basic terms, on-page optimisation is the aspect of SEO that involves everything you can do on your own page (URL) to improve ranking positions. This includes your page titles, meta descriptions, heading tags, body content as well as imagery, video and page design. Let's go through the various aspects and learn how we optimise your page.
Finding a Keyphrase to Optimise
When starting your on-page SEO, you obviously need to pick a phrase to optimise for. Finding the right type of phrases for your website is known as keyphrase research. There are many ways you can do this and most people have their own way of doing it, you have the option to use free tools, paid tools or just look at competitor websites. So how do you go about finding keywords?
If you don't know what to optimise for then your first call should be to look at what your competitors are optimising for. When you see the type of phrases your competitors are optimising for, go into Google and search for that phrase. You need to make sure that Google is displaying websites like yours for that phrase. If Google shows guides, sites like Pinterest and very few e-commerce websites then it's probably not the right phrase for you.
Using tools such as Answer The Public will help you to discover popular phrases for certain topics. You can also use the Google AdWords keyword planner to get a rough idea of search volumes for those phrases. If you currently have an active AdWords account, you can get more detailed search volumes, however, if your AdWords account is not active then you get given a search volume 'range'. Such as 100-1000 searches a month.
If you want to use paid tools to aid your keyphrase research, there are tools such as SEO Monitor. Here you can get instant keyphrase rankings, topic research along with difficulty scores and opportunity scores to help you decide whether ranking for a particular phrase is likely. You can also forecast traffic to see what sort of increases in traffic and conversions you may see if you reached page 1 of Google for a set amount of keyphrases. We work closely with SEO Monitor, so if you'd like to find out more then take a look here.
Page Titles
Now you've picked your keyphrase for the page, we can move on to optimising for it. The title tag is the biggest indicator of what phrases each page is most relevant for. Ideally target keyphrases should not be in more than one title tag, otherwise, there is a risk of 'cannibalisation' (two pages competing to be the ranking page for that phrase).
So, let's say you're an online store and one of your products is an Xbox games console. A good example of a page title would be something like "Xbox One Console | Free Delivery | Johns Game Shop". In here, we have the product, a call to action and your brand name. If you do not offer free delivery, then you can replace with another call to action such as 'Express Delivery' 'Buy Online' 'Next Day Delivery' or any other USPs.
Top Tip – Google truncates page titles when they reach a certain length, so we recommend to keep them under 59 characters.

Meta Description
Your meta description is not a ranking factor (in Google), so doesn't need to be 'optimised' and include specific key phrases. Ideally, each meta description should feature a strong 'call to action' to encourage clicks. Google does highlight the relevant content in the description, which is why some words are in bold.
Again, if we use the same example as before, your meta description could read something like; "Buy your Xbox One console from Johns Game Shop and benefit from free delivery. We have a range of bundles and deals starting from just £299."
Top Tip – Google shows different meta description lengths for mobile and desktop. If your visitors are mainly mobile users, stick to a 155-character limit, if they mostly use a desktop, you can write up to 300 characters.
Heading Tags
Your website should be using heading tags, these range from an H1 tag (most important) and then go down to H2, H3, H4 etc… Ideally, each page should have a single H1 tag which reflects your page title, in this case, Johns Game Shop should have an H1 tag which is along the lines of "Xbox One Console Bundles". Having a single H1 tag on the page helps Google understand the primary topic of the page so whilst some websites do support multiple H1 tags we still recommend using the one.
Top Tip – Headings do not need to solely contain your keyphrase, you should ensure they're user-friendly.
Images
Images can be just as important as the content on your page. It's actually much easier to have your image show up in Google image results than it is in the organic search results so ensuring your image is uploaded correctly is essential. First, ensure that the images you upload are clear and a good quality. You should ensure that the file size is as small as possible, as a guide, we try to keep images under 100kb. Lastly, ensure you add an alt tag to the image, ALT tags helps Google to understand what an image shows, this is also shown instead of the image in cases whereby the image is not displayed.
Top Tip – Try and keep ALT tags short and precise – an image showing the Xbox One console should have an alt tag like "Xbox One Console with Controller & Game".
Body Content
Finally, you need to optimise your body content. This is the content on the actual page itself. You should ensure there is enough text for Google to be able to get an idea of what the page is about and ensure your page is not flagged up as being too 'thin'. Generally, there is no 'minimum' word count needed for your pages but it must be enough to give context to the topic you're discussing.  Ensure you describe the product you're selling, and you should keep the content on topic. You can include your target keyphrases, but Google is clever enough to work out what you're talking about without the need to mention in directly.
Top Tip – When writing content to internally link to your other products or services which are related. If you mention particular games or accessories on the console page, link to a couple of them within the content.

Off-Page SEO
Now that you've optimised your pages and completed the on-page SEO, you should move onto the off-page SEO.
What is off-page SEO?
Off-page SEO is essentially all the actions you can take outside of your website to help increase the rankings and visibility of your website, this mainly comes down to link building but can also extend to brand perception, reviews and locality.
Links
Links act as 'votes' to your website. The more links you have from highly authoritative websites, the higher your own authority will be and therefore you'll start to see higher rankings within the search results. Long gone are the days where you could buy links from bloggers and manipulate your website authority to gain page one rankings in Google. These days, you need to ensure you're creating engaging content that people will want to link to and refer to in their own work.
An effective way of gaining links is to find local or industry relevant websites or directories to list your business on. As well as this you should be engaging with local bloggers and journalists and building relationships with local publications that may be looking to get industry opinions for articles they're working on. Alternatively, you could look at starting a PR campaign for product launches, business milestones or work you do within the community. There is no easy way to go about link earning, you just need to ensure you're building relationships with those in your geographical location or industry. Just because you see your competitors building links on certain websites does not mean you need to go and build that same link. Many people think they can replicate a competitor's backlink profile and end up outranking them. But in reality, most websites will have quite a poor backlink profile so if you do want to replicate your competitor's links, ensure you're only using the high-quality sites they have links on.
Top tip: Focus on quality over quantity. Google would rather see fewer links from highly related websites than 100s of links from spammy directories or spun content.
Social Media
Although your social media profiles do not contribute to your search rankings, it's important to keep posting regularly on social media and interacting with your followers. As we mentioned earlier in the post, having people search for your products and brand name could be considered a ranking factor so be sure to post regularly.
Top Tip – Do not just post links to your website on social media, these will reach less people, instead you should aim to create unique content which will engage with your followers.
Reviews / Brand Perception
Finally, you need to ensure that you're getting good reviews on your social media profiles and any review sites. Google uses reviews from third party websites in your knowledge panel so be sure to get positive reviews for your business and ensure you are keeping customers happy by providing a professional service.

Google Tools
The key to any type of online marketing is knowing whether it works. There is a range of tools provided by Google to make the life of a business owner or marketer easier. Below we'll run through the must have tools which every website owner should be using.
Google Analytics
Google Analytics is the essential tool for every website. Google Analytics is a little tracking code you add to your website which monitors visitors to your website showing you how many people visit the website, what pages they look at, what items are purchased and more importantly, how they found your website. Google Analytics is a free tool and just required you to add a tracking code to the <head> tag of the pages you want to track.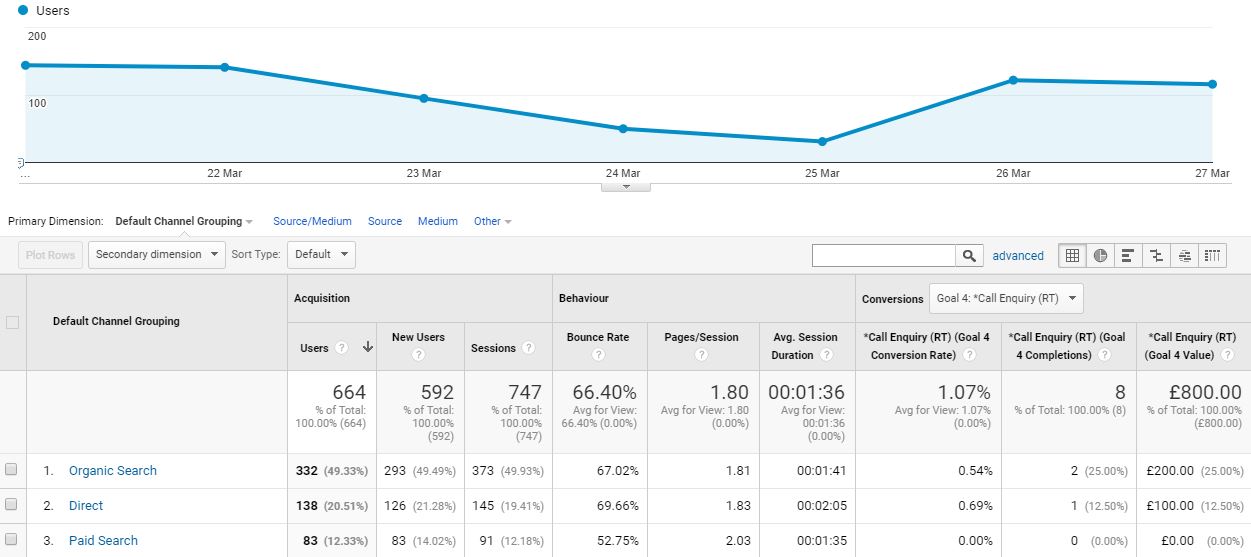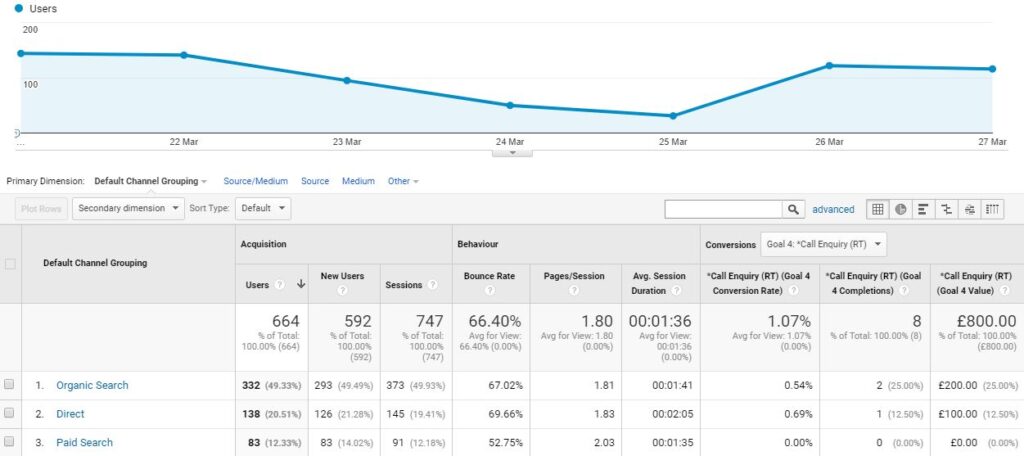 Google Search Console
Formerly known as Webmaster Tools, Google Search Console is the health centre for your website. Here you can find information about how Google is crawling your website, how many pages of your website are indexed in the search results as well as simple HTML improvements such as missing meta descriptions and pages titles. Search Console is easy to verify, simply submit your website and if you've installed Analytics just click verify by Analytics. If not, download the file it instructs you to and have your developer upload it to the website.
Test My Site
Test the mobile page speed of your site with the Test My Site tool. Google will crawl your website and display the speed of your website on a 3G connection. This gives you an idea of how fast your site is on a mobile connection. It also displays how Google sees your website when crawling so you can identify and areas where the page does not load as it should.
PageSpeed Insights
Similarly to the Test My Site tool, the PageSpeed Insights tool will give your website a page speed score for both desktop and mobile sites. You also get an 'optimisation' score. You can use this data and suggestions to improve your website. The higher your score, the better your site performs and therefore your site has a better chance of ranking well within the search results.

Other Tools to Use
There is a vast array of other tools you can use to help make SEO that little bit easier, some are free and some are paid for, so here's a roundup of some of our favourites.
Screaming Frog – Screaming Frog is a technical tool which will crawl your website and flag up a range of issues. It tells you whether your pages have meta descriptions which are missing, too long, too short or duplicated. It also does the same for page titles. It will also crawl images on your website and let you know whether they're too big or missing ALT Tags. Screaming Frog has a free version which will crawl 500 URLs in a crawl and give limited information, or you can purchase a licence for £149 per annum. There is a tonne of other features in Screaming Frog.
Yoast – Yoast is a free SEO plugin for websites built in WordPress and Magento and has a whole host of features. A handy feature of the plugin is the ability to easily write in the page title and meta description for your pages with a handy guide on best lengths. You can also get tips on whether your focus keyphrase is mentioned in the content as shown below.

DeepCrawl – DeepCrawl is a paid for tool, however, you can get a free trial. Essentially, DeepCrawl will crawl your website, similarly to Screaming Frog and pick up a whole host of issues with content on the website as well as issues with links and indexation. DeepCrawl is our tool of choice at Anicca Digital and we believe it is well worth the cost. Prices for DeepCrawl start at £55 a month once your free trial has expired.
Answer The Public – If you're not sure on what to optimise your website for, then Answer The Public is a very handy tool. Simply put your topic in and get a list of popular related topics, questions and searches. Answer The Public is a free tool and you don't need to sign up.
Rank Tracker – If you have optimised your website and have a set list of keyphrases that you want to see rankings for, then you can use Rank Tracker from SEO Power Suite. Their free version allows you to view rankings for a range of keyphrases. You can get a free version and search ad hoc, or get a paid version which allows you to save rank history and compare rankings to 10 competitors for £259.75

Conclusion
Hopefully, after reading this guide, you can set off on your own SEO journey and begin optimising your website. It is worth keeping in mind that SEO is not like AdWords or Google Shopping, you don't just turn it on and it instantly appears. SEO takes time, and it can often take Google weeks and months to process changes to your website's authority. By working on your site regularly and updating your content, earning links and building a positive brand perception, you will be well on your way to earning your spot on the first page of Google.
If you do have any questions about anything mentioned in the article, feel free to reach out on Twitter with your query. If you've read through this and realised SEO may be a little out of your scope, why not explore our SEO training options (click here for more info) or speak to us about our SEO services.