With the ongoing success of the Anicca PPC training courses, we decided to run our first ever SEO bootcamp last month here at Anicca HQ.
In total eight delegates came to our office in the centre of Leicester and spent the week learning more about SEO and putting what they had learned into practice during the dedicated practical sessions. The bootcamp course was designed to introduce the attendees to a different aspect of SEO each day, which enabled them to build a bespoke and actionable SEO plan for their business as the week progressed.
All in all, our inaugral SEO training course was a resounding success – but don't just take my (slightly biased) word for it, read the testimonials from all of our attendees below.
Our next SEO bootcamp is scheduled to run from 31 March – 4 April 2014 – if you're interested in attending or learning more.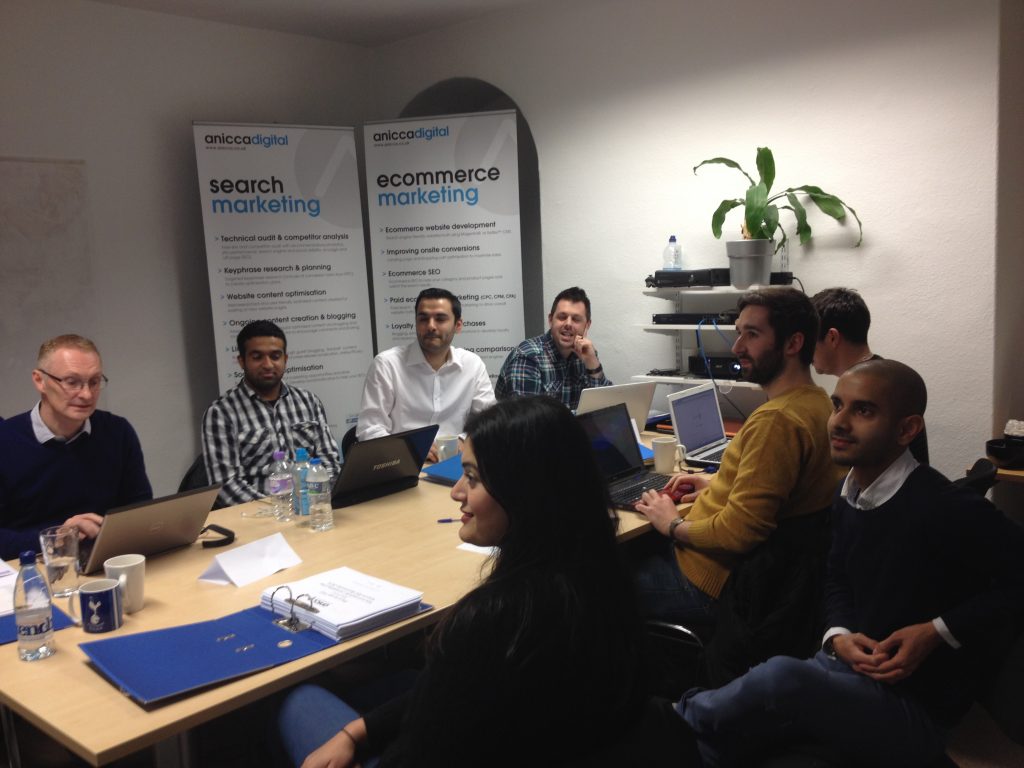 SEO Bootcamp testimonials
Peter Woods – www.centralis.co.uk

"SEO has always seemed a bit of a black art, shrouded in mystery until I attended the SEO Bootcamp. Not only do I now have a clear understanding of how to positively manage our SEO but the practical sessions helped me develop the hands-on skills, a clear plan of action and got me started on implementing it."
Tom Dunn – www.solusgl.com

"Luke's course was well structured and coherent, covering topics to great depth without ever feeling complicated. Having started the course with only an entry level knowledge of SEO, I left with a practical plan to implement in my work at Solus. Highly recommended!"
Tom Geraghty – www.trifibre.co.uk

"My colleague and I have just completed the SEO boot camp at Anicca. We also attended the AdWords boot camp last year and we found both courses to be very beneficial. The staff at Anicca certainly know their stuff, and I would definitely recommend Anicca to any company looking for SEO or PPC services."
Ahmed Makda – www.trifibre.co.uk
"I have had past experience on SEO but after attending the SEO Boot Camp I realised how much SEO is changing on a daily basis and also the amount of new knowledge I learnt was unbelievable, also I can take away different methods I can use to implement onto My website to make it successful in the world of SEO. Thank You very much Anicca for a fantastic Boot camp and all the help you have provided."
Rempi Takhar – Luv Shu

"The SEO boot camp is a really informative & interesting course, which can be attended by SEO novices as well as those with experience. The course is a great blend of theory & practical in which you can work at your own level with examples & tasks set to your individual company needs."
Bhavesh Chauhan – Anicca Digital Ltd
I enjoyed the examples of real companies affected by SEO like Expedia and RapGenius. I also thought that Luke's assistance to individuals during the practicals was well received.
Neil Hannam – Anicca Digital Ltd
"The bootcamp was a fantastic experience. It gave a great insight into the best SEO practices and was perfect for people with a decent understanding already or for those completely new to the concept. The structure was cleverly designed so that each attendee was building up a plan of action throughout the week that they could build upon in the future."
Rajal Parekh – Anicca Digital Ltd
"Having no previous SEO experience I was eager to understand the full Search Engine Optimisation process. The Anicca SEO bootcamp is vital to anyone wanting to develop their knowledge and understanding of SEO further. The course also involves excellent practical training on how to properly use the available tools and apply them when creating a successful SEO campaign. The course is full of information and structured to cover all aspects of SEO – recommended to anyone keen to expand on their digital marketing skills!"
Click here to find out more or to book your place on our next SEO bootcamp