Whether you're just starting out with your SEO or you have a long-running business, almost everyone can benefit from ensuring their local SEO is up-to-date and on track. We've compiled this guide to help guide you through how to get started with local SEO, from creating your Google Business Profile to optimising your website and building your website's authority through citations.
Just need to know something specific? Use these links to skip to each section:
What is Local SEO?
Local Ranking Factors
Setting up your Google Business profile
Creating local landing pages
Aligning your NAP
Local Optimisation Tips
What is local SEO?
If you are a local business, either providing services in specific geographical locations or have a physical storefront then targeting users in those locations is your main priority. For example, if you are a barber then you want to attract people local to you. To do this there are a couple of main different ways a user might find you.
Local Pack
The first way a user might find you is seeing you listed in the local pack results, these are essentially Google Maps listings that are displayed in the search results for local searches.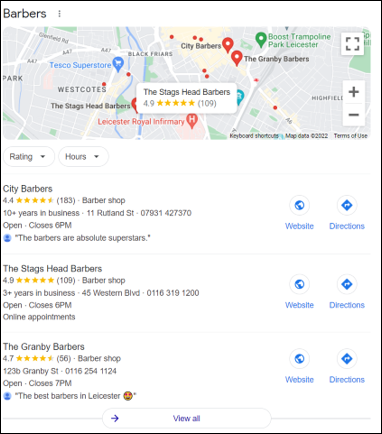 These results are usually based on proximity to your location. Google will give you the most appropriate businesses based on your search query. This is based on a few factors, including proximity, whether the business is open, the reviews for the business, and their relevancy to the search.  Local pack results will usually show up if your searching for a service and depending on where the searcher is located the results will usually always be different.
If you do a search for a barbershop or 'barbershop near me', the results will usually be located within the town or village you are located in. However, if you search for a service in a specific location, for example 'barbershop Leicester' it will give you a list of companies in that location, regardless of where you are searching from.
Local Organic Results
Local organic searches are a more traditional type of listing and are determined in the same way that Google rankings are for generic/informational searches. This relies more heavily on your website's authority and optimisation.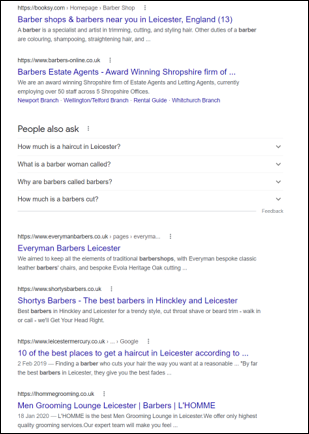 To rank in these results, you need to ensure that your website is optimised not only for your main products and services but also for the location. If your website has a single location you can just optimise your website for your products/services + location, but for businesses with multiple offices or stores then you will want to consider creating local landing pages (we will get on to this later).
Local Ranking Factors
If we look a bit deeper into what affects the Google rankings for the local pack and organic results, we can break this down into a few specifics as shown in this table from Bright Local.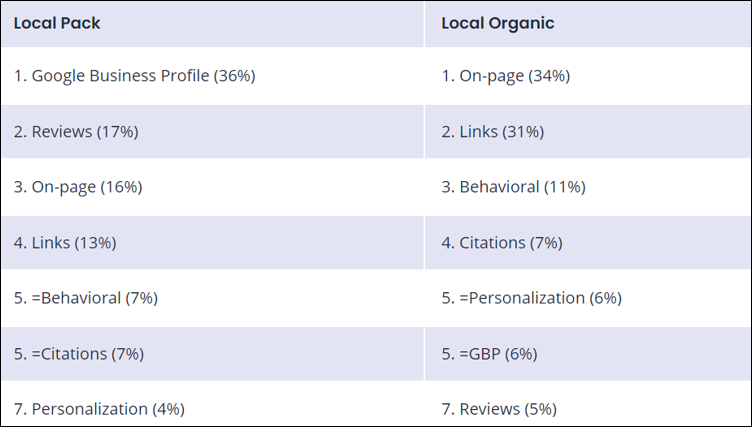 For local pack results, your Google Business profile is by far the most influential factor, which is to be expected. It is essentially your online storefront and one of Google's own products. Following that, we're looking at reviews. Not just on Google but on third-party sites such as TrustPilot, Reviews.io, Feefo, Facebook and various other sites. Having plenty of reviews helps Google understand what people like about the business and gives them the confidence to recommend you to users.
Following on from that we move onto on-page factors, this is how well the website is optimised from a content perspective. Are you optimising your website's metadata, heading tags and body content? You should also ensure that your website is gaining backlinks. These are links from another website to yours and acts as a vote of confidence to Google that other reputable sources are recommending you. This will include citation listings, so mentions of your business across the web (both editorially and on local directories).
Google will also look at a few other elements including behavioral signals which look at whether people click your listing in the search results and bounce back of or if they stay on to complete a conversion. It will also use some personalisation based on the data they have on the user, whether they regularly visit specific websites or search in a certain way.
For organic results, Google takes into account similar things but puts a very different weight on these elements. Googles puts a heavier weight on on-page optimisation for local organic results and also links play a much bigger role. This is like we see with more traditional search result algorithms. Your Google Business Profile and reviews still play a part in this but the weight of each element is much lower.
How to optimise for local search
So, now we know what the main type of results are and what Google likes to see when displaying businesses in the results we need to know how to start our local SEO strategy to optimise for this. The first thing we'll want to do is claim or create our Google Business Profile.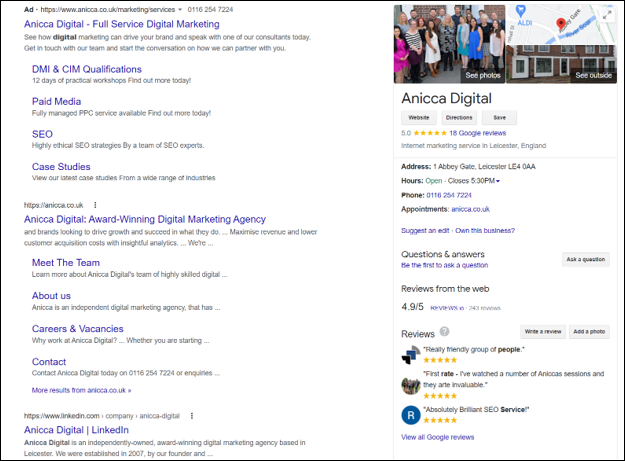 Google Business Profile (Formerly Google My Business) is essentially your virtual storefront. It's likely the first port of call for users Googling your business and will also be the first thing a user will see if you do show up for local searches. It's essential you have this setup and it's up-to-date with as much information as possible.
To check if you have a Google Business Profile, you will want to search for your brand name, does this box appear with your company details? If it does appear, do you own this profile or has this been created by another user or Google? If it's not a listing you're aware of or haven't created then try to claim your listing by clicking 'Own this business?'
Set up your Google Business Profile
If you do not see your business pop up with a Google Business profile then you'll need to set one up. To set up your business of Google Business Profile go to https://www.google.com/business/. Search for your business, if it pops up then claim and verify the listing. If it doesn't pop up you can add a business.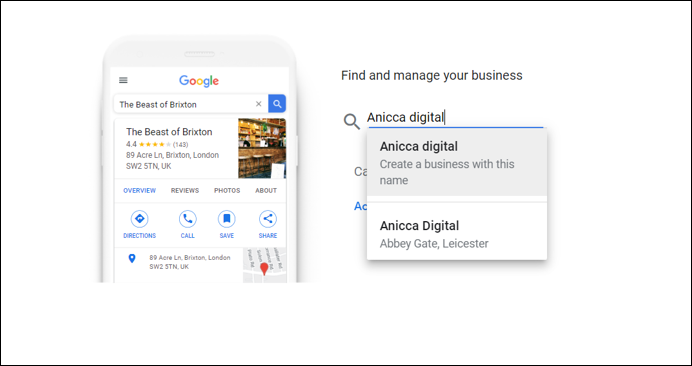 Once you've gained access to your account, you want to make sure you get all the essential details updated. To ensure the most important details are up-to-date you should try to include address, opening hours, special opening hours (bank holidays etc..), phone numbers, business categories (as many as possible), website link, booking link (or link to contact page), service list.
When adding links to your website on your Google Business profile, you should also add a UTM code to it. This allows you to easily track how many users are clicking the link in Google Analytics. A simple UTM to add is ?UTM_source=GMB_listing&UTM_medium=organic so a link to your homepage would look something like this: https://anicca.co.uk?UTM_source=GMB_listing&UTM_medium=organic. 
Once you've added the primary data that is needed you can start adding extra data to your listing to help improve your listing. Extra sections to fill out should include services, attributes, business description, opening date, photos. Attributes you can include things such as parking, disabled access, amenities you may have as well as health & safety notes such as mask requirements and temperature checks.
Google Posts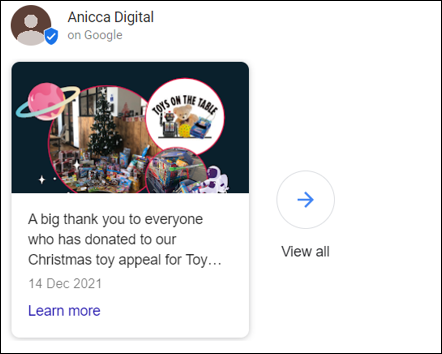 Another feature you should take advantage of is Google Posts. Google posts allows you to post updates similarly to other social media platforms. This could be company updates, general information, or special offers. It also allows you to add links to specific areas, so any particular product or service you're trying to promote. These show up on your business profile in Google so can be a great way to entice users to click through to your website. It's worth noting that it's also widely believed using Google Posts can help your local SEO so using this feature is highly recommended.
Reviews
We mentioned reviews as a ranking factor at the start of this post and it is arguably one of the most important parts of your Google Business profile.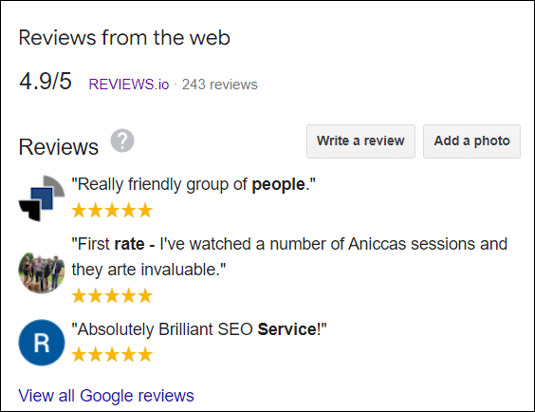 Positive reviews not only help Google verify you're a legitimate business but also act as a confidence booster for users that may be looking for your services. Did you know that 42% of internet users in the U.S. list "reviews from other customers" as a feature that would most increase their likelihood of buying a product? So having reviews is vital to boost your credibility. Not only does Google show reviews from your Google Business profile, but also 'reviews from the web' and will integrate with websites such as REVIEWS.io, Trustpilot, Facebook, and other websites so ensure you're utilising any other platforms for reviews.
Creating Local Landing Pages
The next thing we need to look at to improve local SEO is your local landing pages. Local landing pages are ideal for businesses that have multiple locations. If you only serve one area, then your 'local' landing pages will be your normal service pages optimised for your location.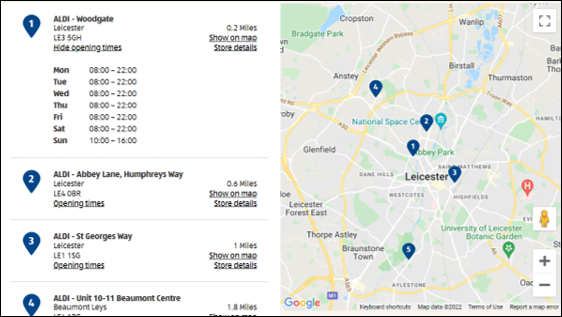 The first thing to do is map out the areas you have an office in. You'll need a page per office/location. Your target keyphrases for these pages is typically 'product/service + location'. Use tools such as SEO Monitor, Keyword Planner, Semrush to get search volumes for these phrases.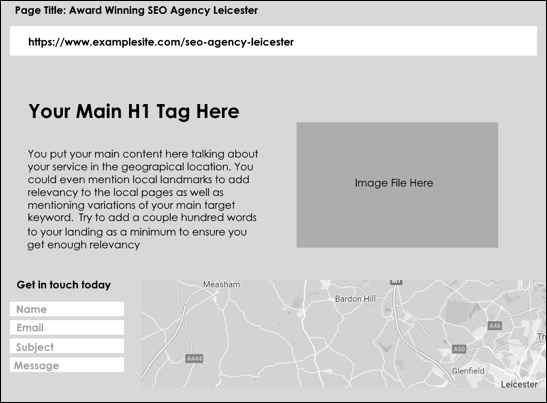 Next, we need to work out how to lay the page out. The best local landing pages will include the following – optimised title and heading tags for location, engaging body content (related to service and area), contact form, map for the local area, local Business Schema. You will want to ensure your main body content for the website talks about the services or products you offer and has mentions of the local area. You should be trying to aim for a couple of hundred words here as a minimum so that you've got enough content to optimise without sounding spammy.
Using Local Business Schema
We mentioned including local business schema. This is a markup language used by Google to highlight important business info such as contact details, social media profiles, logos, opening hours, and more. If you are a local business, you should be using LocalBusiness schema.
You can use a schema generator for this which will allow you to just put your business details in and then download the JSON code. You can upload your schema anywhere within the HTML of your page. We would recommend adding it towards the end of the <head> section of the page. You will need FTP access to add this. Alternatively, if you use Tag Manager you can create a custom HTML tag and paste it in, then set a trigger to fire the code on specific pages. If you need help uploading then have a look at our guide on implementing schema through Tag Manager.
Aligning your NAP
Once you've mastered your Google Business profile and got your on-page optimisation up to scratch you can start focusing on your NAP details. Your NAP is your business Name, Address & Phone Number. A consistent NAP helps Google identify your business more easily across any mentions of it on the web.

To start with, you should ensure that your website details align across your website and Google My Business profile. This can even be down to the spacing in the phone number (Google can be picky like that). Once you're happy that these are aligned you can begin your work on third-party websites.
You can check various local directories to ensure your NAP details are aligned. You should ensure that you use a single business name and a single phone number. Some websites may make you include a county on your address but as long as the main bits are correct (street name, city, postcode) then you can be confident Google will be able to identify these listings as relating to your business.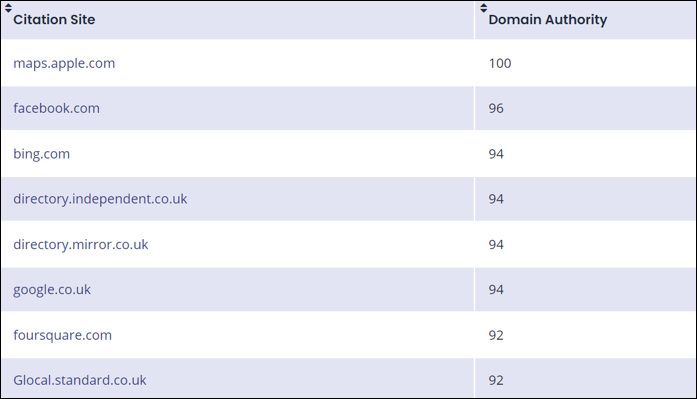 To improve your local SEO and gain more authority you should be updating your citations by aligning incorrect ones. The more citations your website has, the more places you can be found and the more mentions Google will find for you. You can do this manually by searching for top UK citation websites like this, or you can pay a company to automate the process for you. There are pro's and cons to both, but using an automation service will be quicker, more consistent, and leave you with spare time to run your business. Doing the submissions manually will be cheaper, you will have full control of the listings and details included, however it will take up a few hours of your time.  You should aim to submit to around 10 websites in an hour or two.
Local Optimisation Tips
Bing Maps
Once you have got the above sorted out, there are a couple of extra steps you can take to improve your local visibility away from Google. Bing use their own local results and therefore have their own version of Google Business Profile. We would definitely recommend getting your website added to Bing's 'Places for Business'. The benefit of doing this after you have your Google Business profile set up is that you can import it directly from Google. This means that once you've imported your business details across they're already aligned, meaning it's less work to do getting the details correct and matching Google.
Apple Maps
You should also look at adding your business to Apple Maps. Apple Maps is the default map service for all Apple devices so already has millions of users and is often overlooked when it comes to local search. It is also what drives the local map pack results on the DuckDuckGo search engine. DuckDuckgo traffic is tiny compared to the likes of Google and Bing, but we do see a lot of year-on-year increases in traffic from this source due to the fact they are a privacy-first search engine and do not take your data like Google and Bing. To find out more about DuckDuckGo you can read our guide here.
Conclusion
Whether you are a small local business, a large multi-location business or indeed a global company, there is a place in local SEO for everyone and we always recommend putting efforts into local SEO, not only to help with local visibility but to help increase your websites overall authority. If your business needs local SEO then do not hesitate to get in touch with one of our SEO consultants today to see how we can assist.