If you have an e-commerce store, product pages are without doubt the most important pages on your website. Not only are they responsible for converting your website's users into customers, but they can also be a great source of traffic once properly optimised.
At Anicca we have worked with e-commerce businesses for over 15 years and over that time have gained an in-depth understanding of what makes a great product page and our click rate optimization (CRO) services have helped guide dozens of businesses to improve their landing pages. We have put together a list of 10 things you can do yourself to improve your conversion rates and drive more organic traffic to help send your conversions to the moon.
1. Clear Buy Buttons and CTAs
Did you know, the average conversion rate of e-commerce stores is currently around 1.3%? If you're struggling to get anywhere near to that figure then it's time to start making improvements. The first thing we should be looking at is the buy button. So many times we come across websites with a buy button that is too small, the wrong colour, or simply just blends into the site.
Your buy buttons should be big, bold, clear and stand out. Don't clutter them in with loads of product information or other CTAs. Give them space and ensure buttons are easily identifiable to minimise friction in the buying process
2. Finance? Use Klarna/Clearpay Marketing Tools

Did you know that 147 million purchases were made in 2021 using Klarna? If you offer the likes of Klarna, Clearpay, or financing options make this clear on your product pages. Klarna has an amazing set of marketing tools to help improve conversions so use these to your advantage, make it clear that people can defer payment or split into three payments. This is especially effective if your products come in at a slightly higher price point.
3. Use High Quality, Optimised Imagery
Product imagery can make or break a page. When planning your product photography, ensure you are consistent throughout the site. Use clear and high-quality imagery wherever possible. Don't just stick to one image either, use close-ups of product details, and show what makes your product better than competing products.
As well as making sure the images look great, make them technically brilliant too. Optimise them to be as small a file size as possible. This will help out with point 10 further below, ensuring your pages load fast. Also, consider those users who may have visual impairments or require assistance. Adding alt tags to your images helps not only Google understand an image but also those users who are using screen readers to help them navigate your website.
4. Use Video Content
To follow on from imagery, video content is another form of media that will set you apart from most competitors. Use videos to showcase your product such as demonstration videos or simply just close-ups of your product. Video content is easily digestible and will keep users engaged much better than leaving them to scroll and read through product specifications.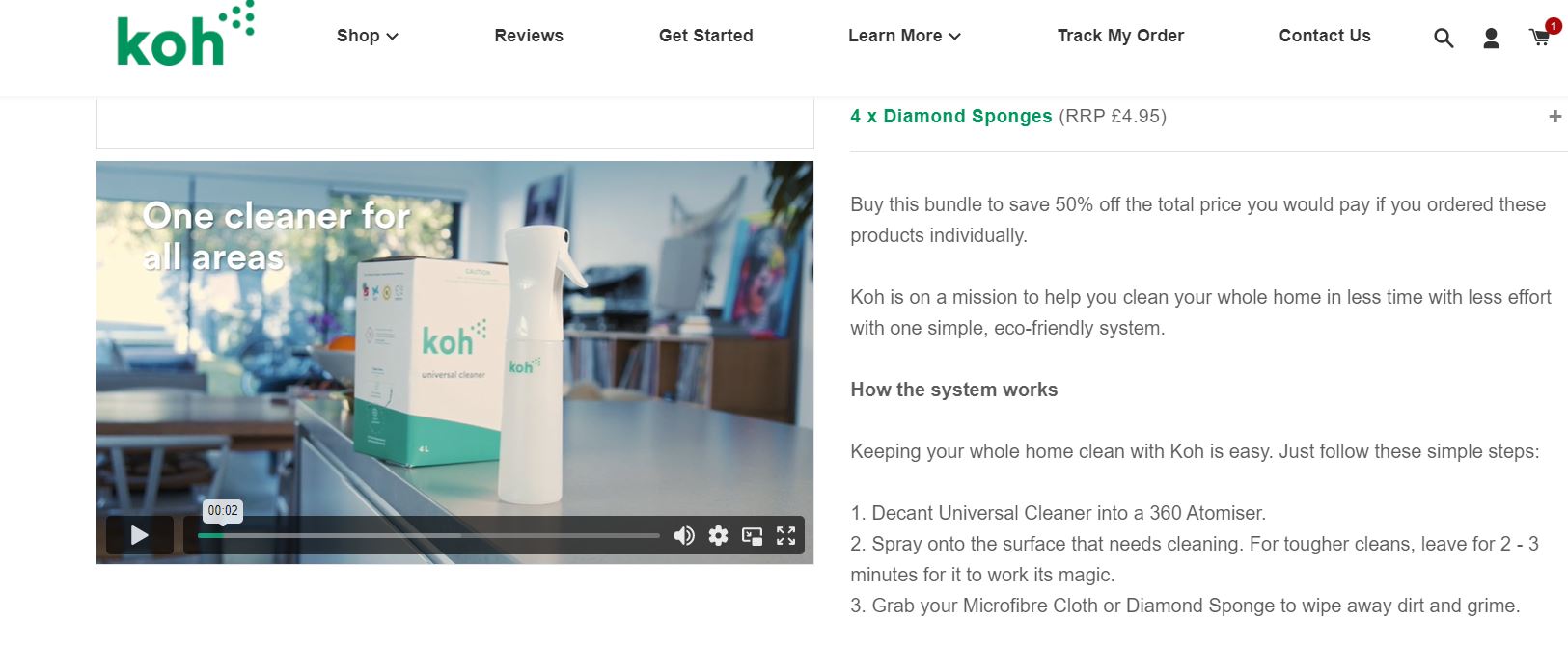 If you want to take this a step further, you can tie this into our next tip, which is reviews. Platforms such as reviews.io will allow your customers to submit their own video reviews, so wherever possible try and entice users to create unboxing videos as part of a video review which you can embed on your product page.
5. Get Customer Reviews
According to Dixa, 93% of customers will read reviews before making a purchase online so having user-generated reviews of your products is incredibly important. Reviews at a product level will always give you an edge over competitors who aren't collecting reviews. Collecting reviews for your products allows users to get an understanding of a product from people just like them. Not just about the product but about the service you provide too. In today's fast-paced world people need things instantly and having positive reviews (especially those who state how fast the product was delivered) can make the difference between a conversion and lost business.
Using product reviews also helps you stand out in the search results, which leads us nicely to tip number 6.
6. Use Product Schema
Schema (also known as structured data) is a markup language used by Google and search engines to highlight important information on a page. If you have an e-commerce store then as a minimum you NEED to be using product schema. Product schema highlights the most important elements of your product page and allows them to be displayed in the search results. This includes price, stock status, customer reviews, imagery and more.

Implementing this at a template level will mean your products can get much more attractive search listings. Look at the screenshot above where we can see product schema in action; the Asos listing looks a lot more appealing to click, doesn't it? This is especially useful if your products are priced competitively compared to your competitors.
7. Target Keywords with a Transactional Intent
Your product pages are there to drive sales to your store, so you need to focus on targeting keyphrases which have a transactional intent. When Google decides which websites to show for certain searches it looks at what the intent of that user would be. Are they looking for information? If so then Google is more likely to show guides, blog posts or general pages. If Google thinks a user is looking to buy a product then naturally, it is going to be more inclined to show results where a user can purchase the product.
Using keyphrase research tools such as Semrush will allow you to find the intent of a specific keyword. If you do not have the budget for such tools then the best thing to do is search for the keyphrases you want to appear for and see which results Google is showing. Are the results predominantly product pages, or is it showing mainly blogs and news content? If the latter then the chances are the keyphrase does not have a transactional intent.
8. Properly Optimise your Content
Once you've found the transactional keyphrases you want to target then you can move on to optimising your pages. To optimise your pages there are a few key areas you need to optimise. Firstly, we need to optimise the pre-click elements. Pre-click elements are your title and meta description. We call these pre-click elements because the users see these in Google before clicking through to your website. So, starting with your page title, this carries more weight than anything else in terms of on-page optimisation so ensure you include your keyphrase in here. Although not a ranking factor you also need to include an engaging and well-written meta description. These are the snippets of text that show up in Google, so include any USPs such as free delivery, next-day delivery etc… It's also worth noting that if you include your target keyphrases here then Google will make them bold to help show relevance for users.

Once you've optimised your pre-click elements, we can move on to the post-click elements. This is the content users will see on your page once they've reached your site. Every page on your website should have an optimised H1 tag. As best practice we recommend you keep this related to your page title to bolster that relevancy to your target keyphrase. Finally, ensure you have a descriptive and engaging product description. This content needs to be written to help users, not Google, so speak about the benefits of the product, including once again any USPs that'll help sell the item. Try to mention your target keyphrases a few times within this, but do not make it spammy. Try to keep the mentions natural and fit them in where it makes sense, Google knows when you're shoe-horning keyphrases into your word count!
9. Answer Common Questions & use FAQs
When you're writing your product descriptions don't just write for the sake of hitting a specific word count. As mentioned above you need to make sure your content is answering questions and informing the user. Answer common questions about the product. You can do this a few ways, if you use live chat then see what questions are asked or speak to your customer service teams about which questions they answer on a regular basis.

The best thing to do though is search for your keyphrase and look at the "people also ask" box. Google will show these for almost all Google searches and they're questions Google themselves think relate to the search and it is an absolute gold mine! Including these within your content means your building up more relevance on your page and also means you could be featured in the people also ask section, giving you even more real estate on that all-important page 1 of Google!
10. Optimise for Load Speed and Core Web Vitals
Lastly, we need to factor in some technical optimisation. Users are growing more and more impatient and websites are expected to load almost instantly with minimal disruption, so slow websites really do suffer. Did you know that improving your website load speed can increase conversions by 8.4%? Sometimes improving page speed can be a costly exercise if you need to enlist the help of developers, so start with what you can impact yourself. We need to ensure that imagery is optimised and uploaded using the best file formats. Google recommends that webmasters start switching to using WebP formats for images which helps improve load speed. Also, consider which plugins your website has running and whether they're needed. Bloating your website with plugins can often cause many sites to perform poorly, not to mention putting you at a bigger risk of security issues.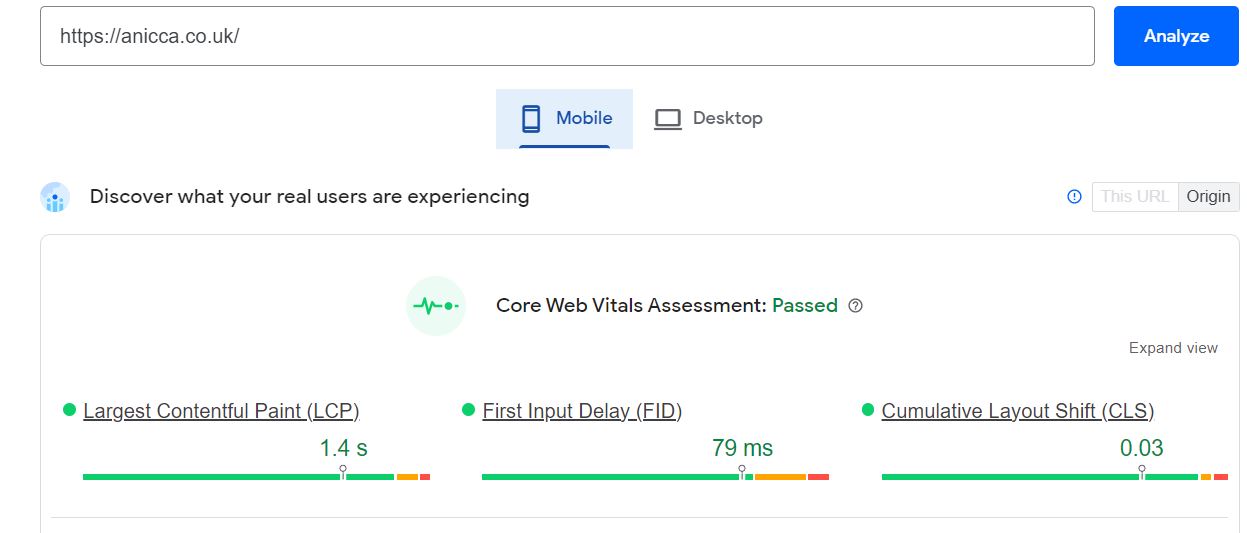 Google also now relies on a new set of metrics called the Core Web Vitals. These measure various elements of your load speed, so if your website loads quickly and provides a good user experience you may get a minor ranking boost for passing these metrics compared to sites that don't. Currently, there isn't a huge weight put on this, but one can safely assume that this will gather momentum in the coming years and start to become an increasingly important part of Google's ranking algorithm
Conclusion
Hopefully, these top 10 tips to improve your product pages will help you start converting more users on your website. The most important thing to remember is to practise a lot of trial and error with product pages. If something doesn't work the first time then don't give up. Go back to the drawing board and try something else, but if you can implement some of these tips you should start to see an improvement in your conversion rates. If you want to try some of the tips but don't want to commit to doing them on all pages then why not try to A/B test some theories using a free tool such as Google Optimise?
If you need some help getting your website to perform better then get in touch with our Conversion Rate specialists here at Anicca and we'll be happy to help.