When you sell on Amazon you will have different options available to you dependant on whether you are the brand owner or a third-party seller. If you are a third-party seller then you will set up on Amazon under a Seller Central account, if you are the brand owner then you may be presented with a choice between a Seller Central account and a Vendor Central account.
Firstly, the one thing to know about Vendor Central accounts is that you must be invited by Amazon to gain access, but once in it can unlock a new dashboard of tools for you.
As a brand owner, you may be unsure which route to take, or you may be thinking about transitioning from one to the other. As with anything, there are benefits and drawbacks to each, here I will look at what each account is all about and the key differences between the two account types.
What is Seller Central?
Amazon Seller Central is the platform used by merchants and brands to promote and sell their products directly to Amazon customers. With Seller Central accounts you operate as a third-party (3P) seller.
Within a Seller Central account, you will have two options available to you to fulfil your customer orders. You can choose to handle all aspects of the shipping yourself, including any customer service and returns; or for a fee, you can allow Amazon to handle this for you by signing up to the Fulfilled by Amazon (FBA) program. If you are a new seller FBA can often help to give you an advantage of winning the Amazon Buy Box.
Some of the advantages of being a third-party seller are:
Anyone can open an account
You can sell directly to Amazon customers
Can prove cost-effective
Free data analytics on your advertising
Quick payments
Disadvantages can include:
There are fewer advertising options
Fulfilment costs can be high
Limited exposure without advertising
What is Vendor Central?
Amazon Vendor Central is the platform available to manufacturers and brand owners. As a Vendor, you will sell your products in bulk to Amazon and they will take care of rest. In the product listing the product will appear as 'dispatched from and sold by Amazon' which can have positive impacts on sales as customers see these as 'Amazon approved'.
As a vendor, you will operate as a first party (1P) seller.
Some of the advantages of being a first party seller are:
Additional advertising opportunities available
Benefit from increased consumer confidence with the 'dispatched and sold by Amazon' marker
Larger sales volumes
Customers benefit from Amazon's world-class customer service
Restricted access to the platform
Disadvantages can include:
Limited control over product pricing
Slower payment terms
Slower international expansion
Key Differences Between Vendor Central and Seller Central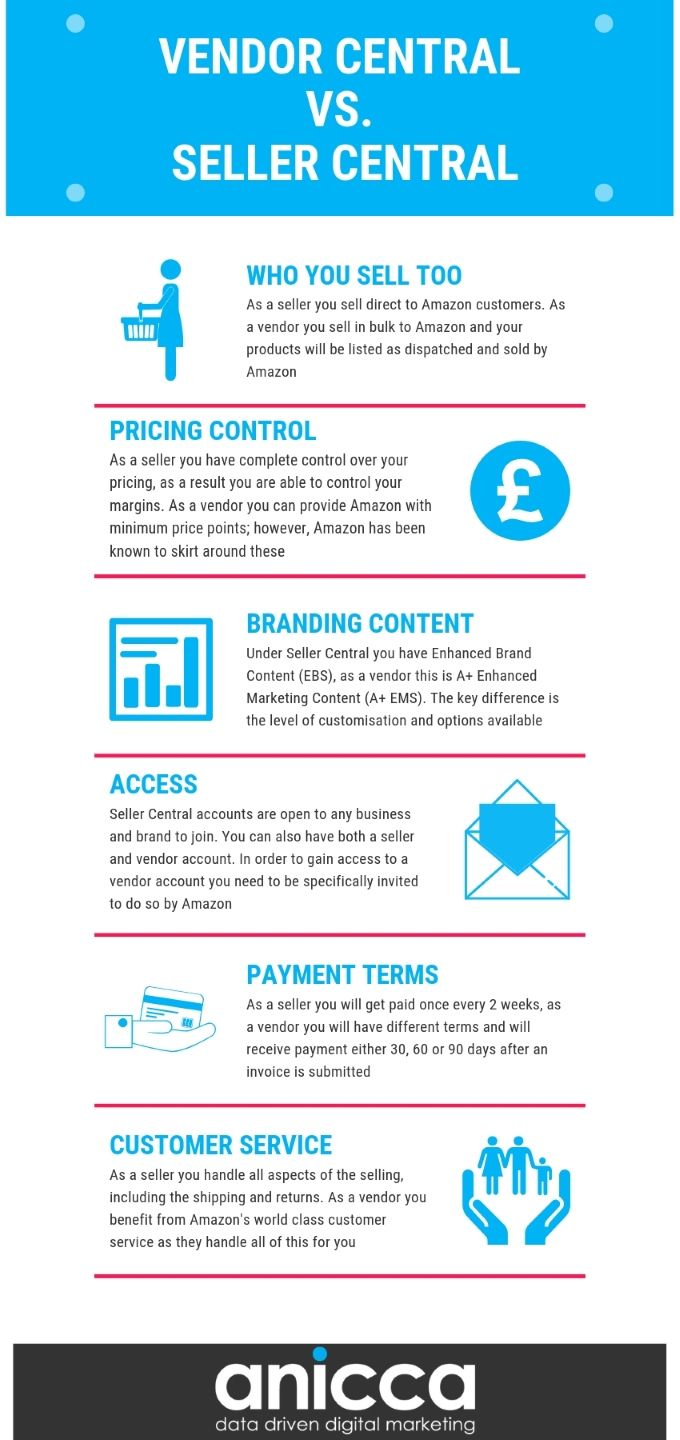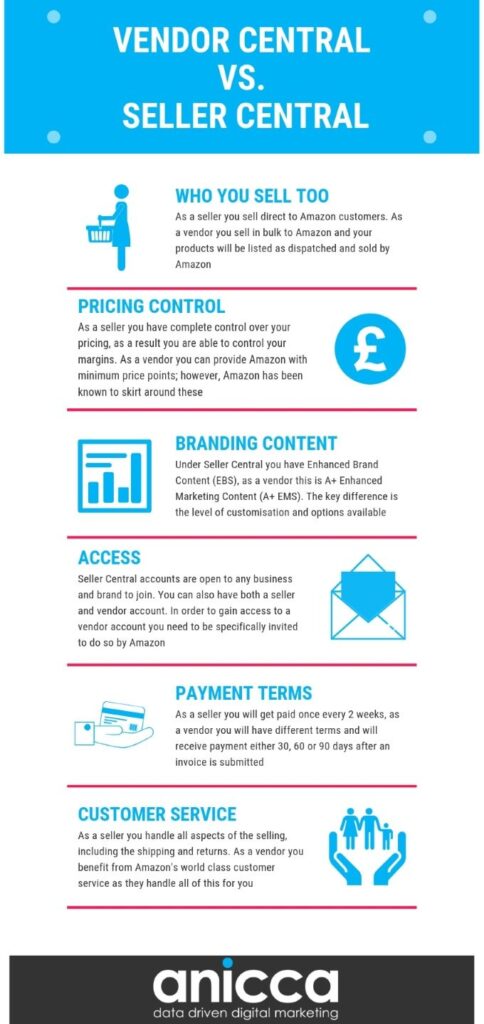 Which Account is Right For You
If you are already an established brand or manufacturer with a high volume of product sales or, if you are growing quickly then you may find that a Vendor Central account is the right path for you. As a Vendor Amazon will become your client, and whilst Amazon handles the selling and customer service, you are able to focus your attention on inventory and other business functions and marketing.
While Seller Central accounts may turnover better margins, as a seller, you will have to manage each aspect of the buying process and ship on an order by order basis unless you utilise FBA. The control of the account is entirely within your own hands.
If you are just starting out then the choice will be taken out of your hands and you will have to set up as a third party seller. If and when you do get invited to join as a vendor you don't have to accept right away it really depends on your business.
If you are unsure of which approach is best for you, get in touch to discuss your needs and we can work together to find a solution that best fits your business.