Google Ads' audience targeting has been developing considerably over the last 24 months and is now more insightful and data driven than ever before. Powered by Google's 7 properties (Google Play, Maps, Gmail, Search, YouTube, Android and Chrome), spanning 1 billion+ monthly users it utilises 1,000's of signals and behavioural patterns to help you deliver relevant and assistive ads at the moments that matter most.
With consumers more demanding, impatient and aware than ever before it is now more important than ever to be able to identify who your audience is, what their intentions and desires are and intelligently understand what this audience will do. This includes what they are searching for, sites they are browsing, content they are interacting with and their purchasing intent.
Whilst you can't see this data at an individual level, as let's be honest, that would be more than a little creepy, you can build very intelligent profiles of different audience segments and groups that all share the same behaviours and characteristics.
While Google doesn't allow for the levels of granularity and interest/demographic based data as other paid media platforms such as Facebook or LinkedIn it does hold a wealth of data that is extremely useful in maximising your advertising efforts within Google Ads. There are also a couple of top tips in merging the data from multiple platforms together.
Types of audiences available in Google Ads
Within Google Ads there 3 categories of audiences and within each of these categories there are different targeting options. The 3 categories are demographic, interest and behaviour and remarketing.
Demographics


With demographic targeting you can reach audiences based on their general makeup such as age, gender and location. There are also some more detailed demographic breakdowns available across the different networks including parental status, homeowner status, marital status and education.
Interests


With interest based targeting you can reach new users who show general broad interests in things and fall into categories such as basketball fans or car enthusiasts, as well as reaching users with more specific interests and purchasing intents.
Interest based audiences cover life events, in-market audiences, custom intent audiences and affinity audiences.
In Market
These audiences are auto created by Google and are populated based a on users' intent to purchase based on what they are seen to be actively researching or planning. The pre-defined categories include things like 'financial services' and 'home appliances'.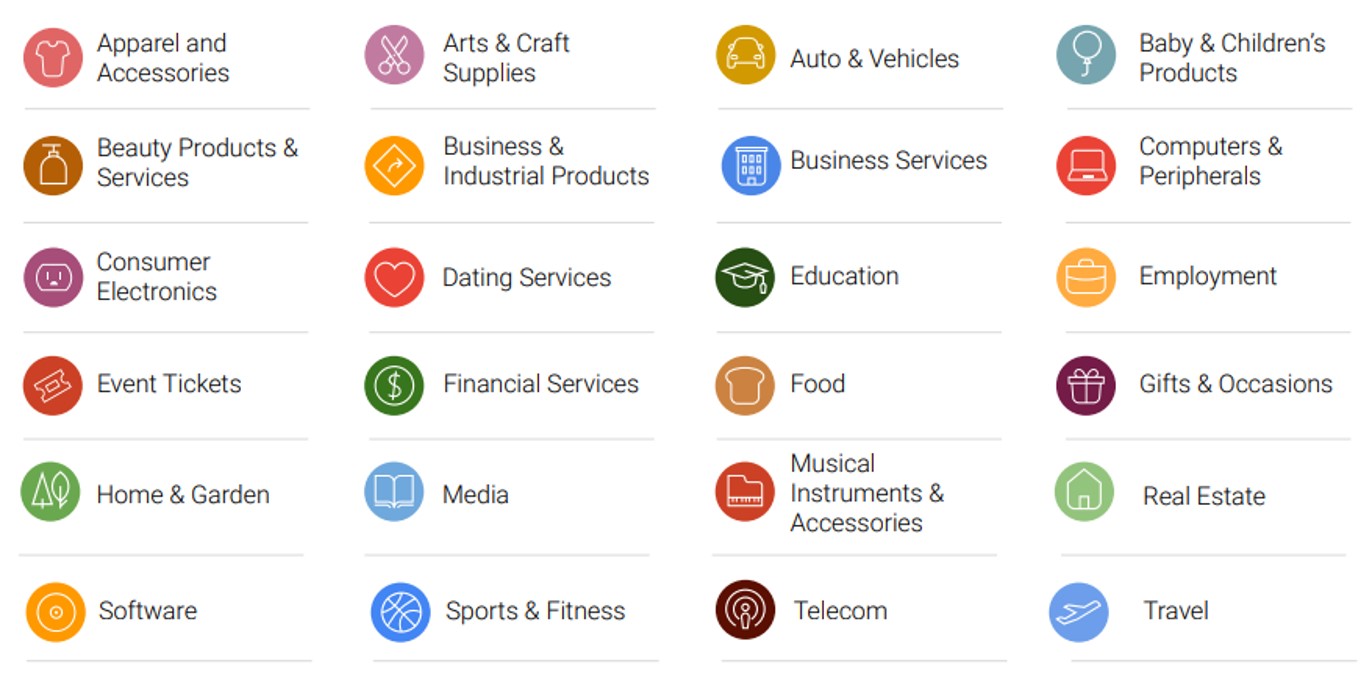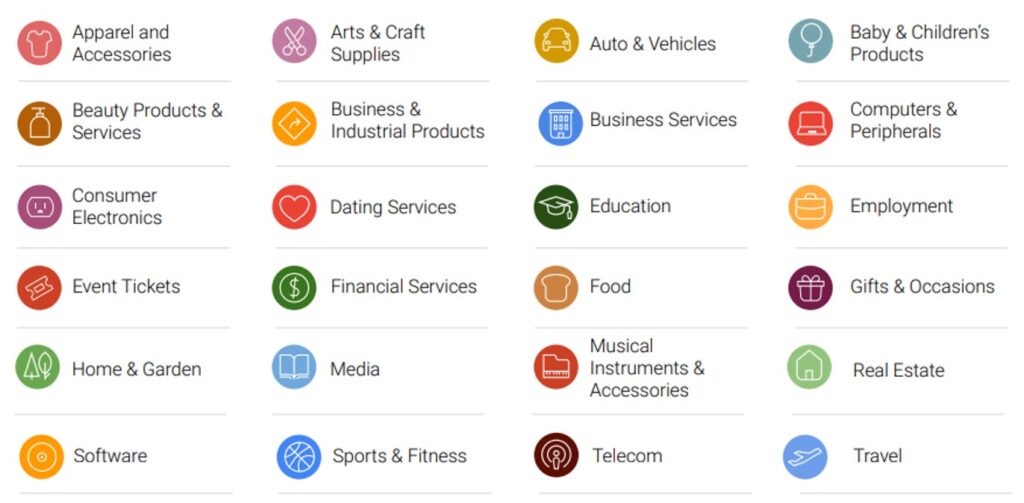 Google, June 2019
In market lists are designed for advertisers who are focused on getting conversions as they are designed to help you find customers who are actively researching and considering purchasing products and services that are similar or related to your own.
All in market audience lists are refreshed in real time which means only people who are actively researching are featured within the list, if a user's intent changes then they will drop out of the list. These lists are entirely based on temporary behaviours.
Custom Intent
Custom intent audiences work in a similar way to in market audiences where they are based off a user's perceived purchasing intent. Again, you can find potential customers who are actively researching products and services that are similar to your own. You can also input some keyword targets and Google will come back with suggestions for the audience.
The main difference between the 2 audience types is that where in market audiences are pre-defined, you are in control of custom intent audiences and define how these lists are populated.
To build the lists you supply Google with either some 'buzz' keywords around the product or service you are trying to promote or a url for a webpage that has content around what you are trying to sell. Google then uses the same signals as it does for in market audiences to build these custom lists
Affinity
These audiences are built based on general interests and behaviours that are not necessarily tied to any purchasing event. Google provides a wide range of pre-defined interest lists from 'auto enthusiasts' and 'sports fans' to 'luxury travellers'.
Affinity audiences are useful for building brand awareness and driving consideration among groups of users with specific interests. They allow you to expand your reach with some definition on who you would like your ads to serve to.
These audiences can be quite consistent with an audience you might purchase for offline or TV advertising campaigns.
Life Events
Life event targeting capitalises on the expected behaviours or purchases that coincide with that event. Google has 9 life events currently that you can use to target on YouTube and Gmail – graduation, marriage, moving, purchasing a home, job change, business creation, home renovation, retirement and new pet.

Google, June 2019
At present this limits the scope of these audiences and who might be able to use them but for something like a marriage this can be relevant for businesses that spam make-up artists, venues and photography.
With Cisco projecting that video streaming will reach 82% of all consumer internet traffic by 2021 we can only expect this audience scope to expand.
Similar Audiences
Similar audiences are based on 1st party data lists (remarketing audiences) and are populated with new users who share similar characteristics to the users on the original list.
These lists are automatically generated when you create your remarketing lists so there is no extra work involved in setting these up.
Google populates these by analysing browser activity over the last 30 days in addition to content a user is viewing to understand shared interests and characteristics between new users and your existing customers.
Similar audience lists can offer up to 5x more reach than remarketing lists alone and can provide improved conversion rates than blindly targeting just any new user.
The most valuable similar audience list is that of your past converters.
Remarketing


Remarketing audiences are built based on your past website visitors and customers and allow you to re-engage users when they are searching on Google or browsing other third party websites.
Remarketing audiences can be broken into 4 categories:
Website – this spans both display remarketing and RLSA (Remarketing Lists for Search Ads) and you define the parameters of these lists based on users who have been to your website and actions they took when they were there. This can be things like time spent on site, pages visited or checkout completions
YouTube – these lists are built based on users who have interacted with your YouTube videos or channel
App Users – these look at users who have downloaded your app
Customer List – this is based on an email database that you upload. Before you upload the list, you can segment it into different sections such as high value customers or newsletter sign ups
As a best practice you should create an all visitors list and all converters list so you can benefit from additional audience insights (see identifying your audiences' section for more on this)
Identifying your audiences
Once you have set up your remarketing audiences and they have started to collect 'cookies' you are able to access Google Ads' audience insights for your all visitors and all converters lists. These insights demonstrate the demographic and interest breakdown of your audience and how this stands up against the UK average (if that is the country you are targeting).
You can see data for age, gender, parental status, location, device, affinity audiences and in market audiences.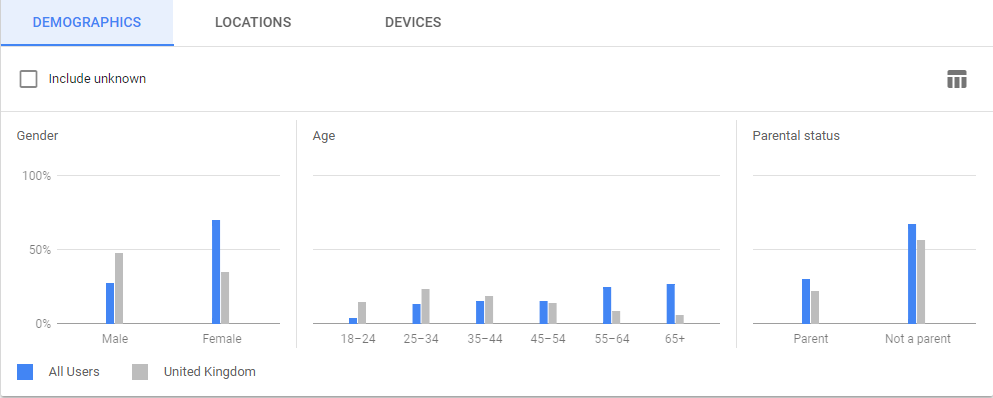 From this data you can then start to shape your campaigns and marketing efforts. For example, if you know that 70% of your conversions are coming from a male audience, and also 46% of your audience are aged between 25 and 34 you may want to put more of your marketing budget behind users who fall into the same gender and age bracket. You can do that in two ways, either apply bid adjustments at ad group levels or you can specifically build a separate campaign to target just these users and allocate a higher budget.
Audience options per network
Not all audiences are available on all networks, you can see below which audiences can be used for each.
Key:
Blue – Available
Pink – Not available
Black – Available in certain countries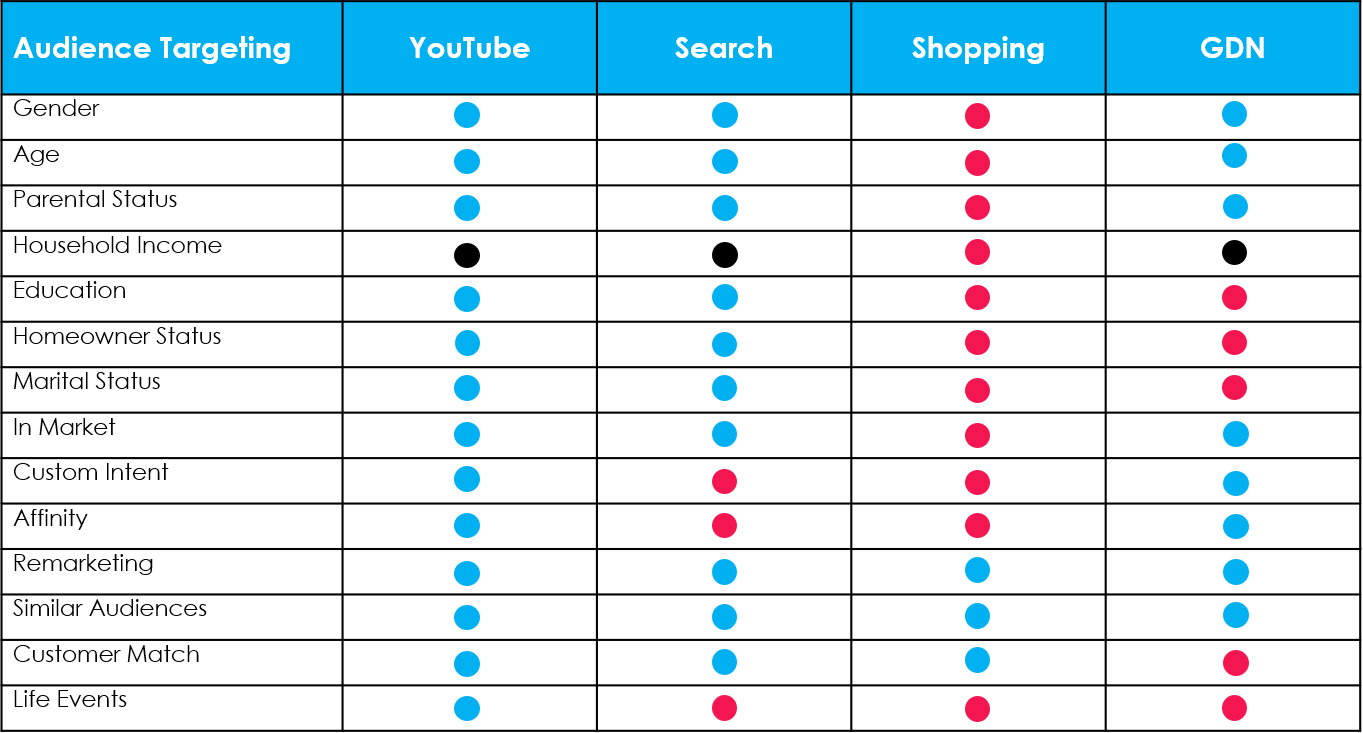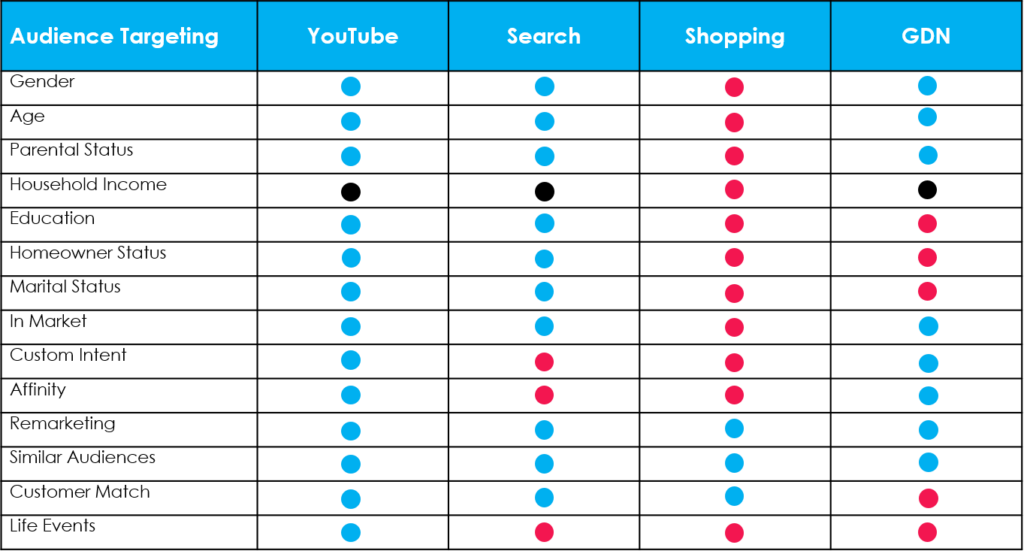 When should you use audience targeting?
Audiences can be used to achieve several business objectives ranging from brand awareness and consideration right through to conversion and retention. For each business objective there is a corresponding Google Ads audience target that can be used to help you achieve it.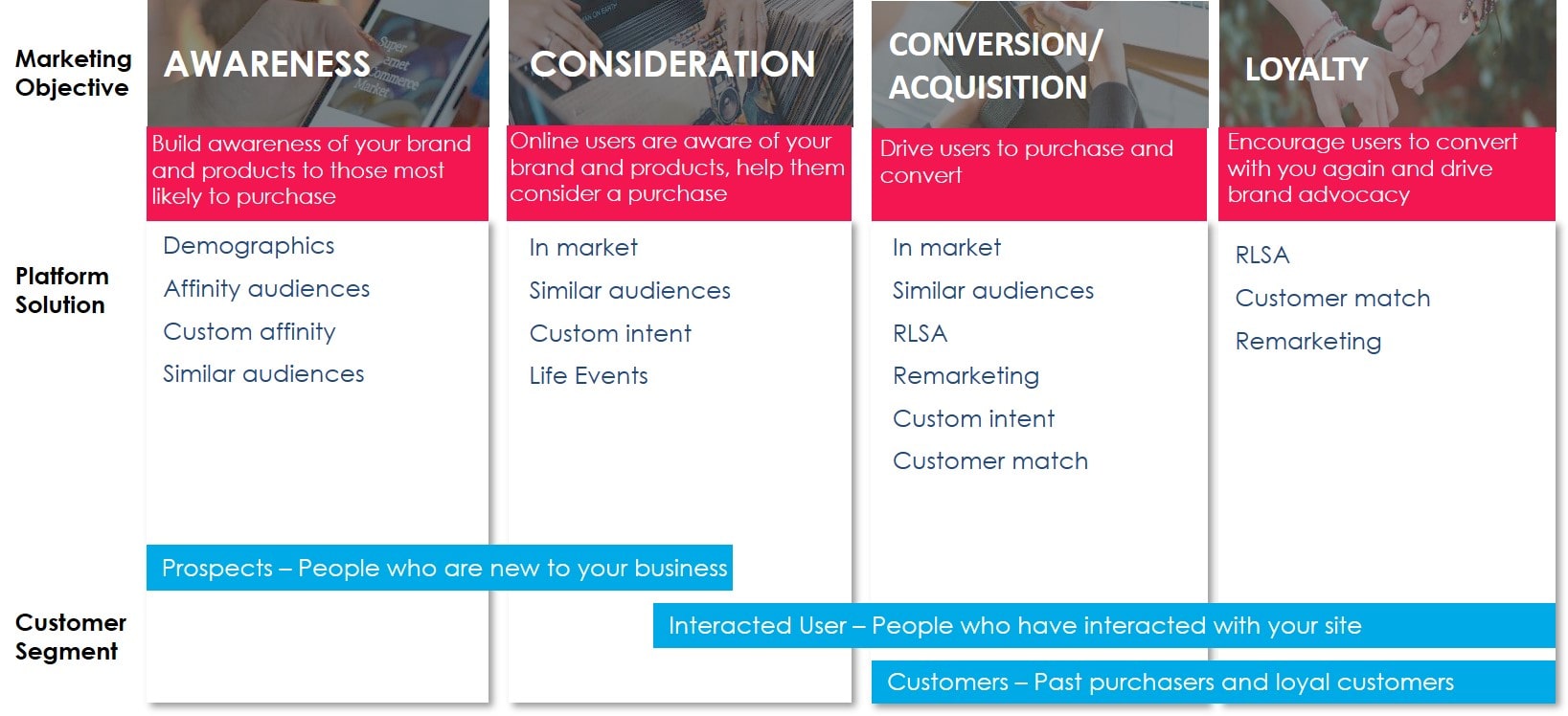 3 top tips and tricks for taking your audience targeting to the next level
Cross platform remarketing


If you want to be intelligent in your audience targeting, you can build campaigns and audiences within Facebook (or another social platform) and then using UTM parameters and Google Analytics you can bring these into Google Ads as remarketing audiences.
In some platforms such as Facebook you can typically get cheaper traffic for your business as well as build very specific audiences around interests, demographics and behaviours.  For example you can build audiences based on both B2B and B2C and can in almost every business find a relevant audience to target. Targeting ranges from people who have shown interests in 'internet service providers' to users who fall into a demographic life event of starting or looking for a new job.
Because when you create your remarketing lists within Google Aanlytics based on the UTM codes used, when you bring the lists back into Google Ads you know exactly who your targeting (demographic and interest wise).
Life events as custom intent audiences
One little trick here to expand the concept of life events is to use the previously mentioned custom intent audiences to build your own. This could then encompass things like having a baby, starting school, job searching and retirement. You will then be able to use these audiences on the display network as well as YouTube.
By using keyword triggers that relate to such events you can populate your own 'life event' audiences or utilise Google's suggested audiences from the keywords you input. This could look something like: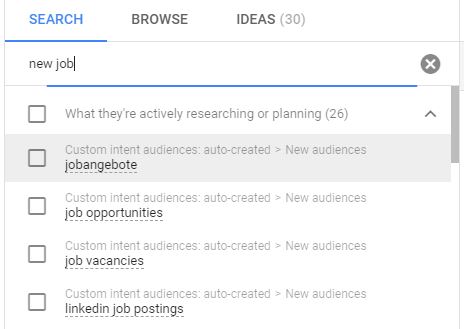 Adjust your ad message for different audiences
There are 2 ways you can achieve this – either through the creation of audience specific campaigns (any network) or using ad customisers (search network only), each have their own benefits, but typically I would recommend creating individual campaigns if you are going to use this strategy.
Ad customisers saves time in creating new campaigns and ad copy, as you add in a parameter to adjust the ad copy if a user contained within your desired audience searches. The disadvantages here are you can't allocate different budgets to your audiences, and you can't set specific bids or target specific keywords only. Also, you can only adjust the ad for one audience, so it limits your scope.
One of the simplest examples of how you may wish to adjust your message is between a male and female audience: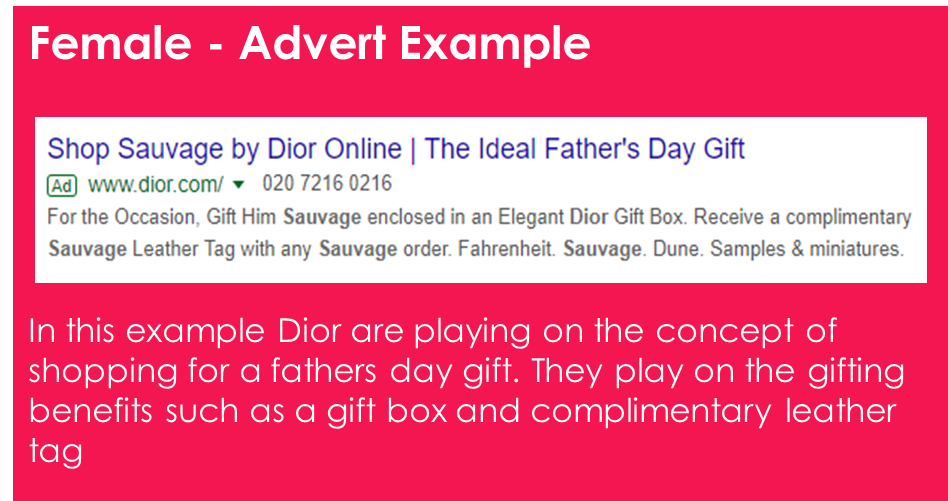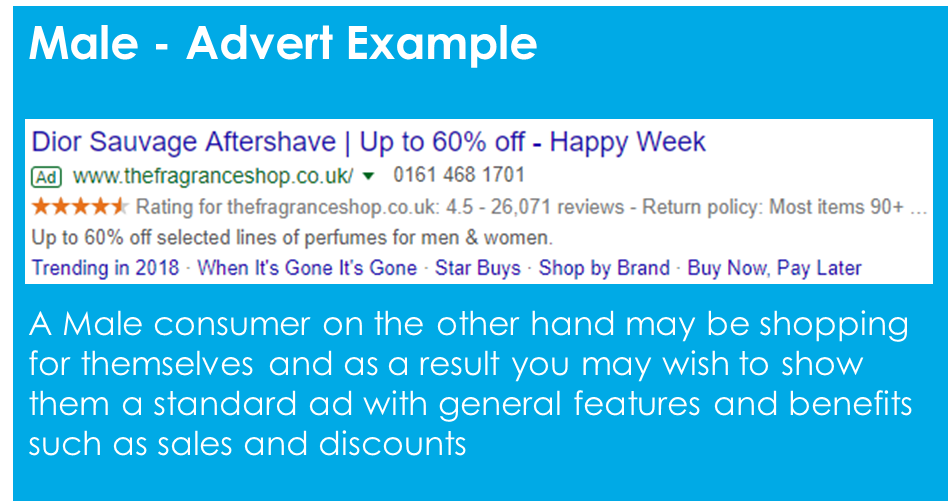 Whilst in this example a father's day gift is still relevant to a male audience shopping for their own father you may look to adjust the advert tone.
The key really is to understand who your audiences are and how each of their searches and desires may differ from another. This can be for lapsed vs active customers or people with different purchasing intents that you pick up from your in-market segments
Audiences and smart bidding
With smart bidding (bidding that is powered by Google automation) becoming ever more prevalent and Google improving its algorithms that power it all the time it leaves the question of where audience targeting sits within this.
Well fear not, even with smart bidding practices audiences are just as powerful as ever. Google still advises that you build out your remarketing lists and overlay these onto campaigns as this can help to inform the algorithms that are adjusting your bids in real time.
You can also still set audiences to specifically target or exclude and this still opens the door up to create customised, relevant and assistive ads at an individual audience level.
On top of this with the use of responsive ad formats (Google optimised ad variations) paired with smart bidding you can find the optimal ad for each audience with Google rotating variants in real time for every search.
Summary
In conclusion if you want to increase reach and awareness of your product or service to new customers, increase engagement and consideration from new and existing customers or drive more sales and higher retention then you should utilise the audience tools that Google has available. There is an audience targeting option for each objective.
If you want to discuss more about how audience targeting can benefit you, not just in Google but across all paid platforms then do get in touch.