Google has just recently announced the introduction of a local feature for Product Listing Ads (PLA) campaigns. Conventional PLAs usually go straight to product page, but now there will be a new option where consumers can check if a local store has the product in stock.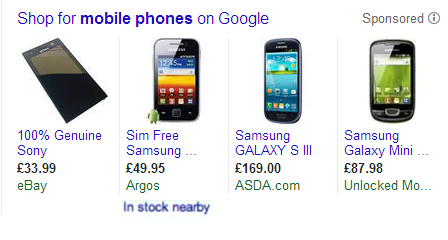 When someone clicks on the 'In stock nearby' they will be taken to Google's Local Storefront page which has the store information details such as opening times, location and contact details (such as store phone number). In addition you will also be able to see what additional products are in stock at the store too.
How Local Product Listing Ads Work
To setup a Local PLA campaign you will need four feeds;
Online Product Feed; this is the conventional product feed currently used for PLA campaigns, containing information on stock that can be sold online.
Local Product Feed; this contains information of products sold at local stores.
Product Inventory Feed; information of pricing and quantity of products in stores (this information may differ from store to store).
Google Places Feed; this feed is uploaded into Google Places and contains information on each store such as location and opening hours.
A Winning Strategy to Increase Offline Sales
Unlike ecommerce websites who can utilise Google's Shopping Campaigns, businesses who rely on foot traffic struggled to increase offline sales with the help of a PPC campaign – which is where this new feature from Google comes in. Traditional PLAs were restricted by the fact that they had to be directed to a product which was only available for online sales, ignoring the offline aspect to a business. Now advertisers and retailers will have the opportunity to help impact on offline sales – however there is still no measurable way of directly linking the advertising (on Google) to offline sales.
There will still need to be some additional work by advertisers and retailers if they wish to track if these new Local PLAs are having a direct impact on in-store sales.
Top Tip: The most common method is to use a coupon which grants some sort of discount to the customer.
Multi-Channel Strategy or Local Campaigns
There are two strategies that can be used with this new feature. Firstly you can adopt a multi-channel approach where you target a whole region (for example the UK) or alternatively set up local campaigns (using geo-targeting) around a store's location.

A local strategy has the advantage that it allows you to customise your budget, bids and targeting whereas a whole region approach will have to adopt the same budget, bids and targeting for all products and stores. The limitation to the local campaigns strategy is that the 'In stock nearby' feature will be only available to mobile devices and not to other devices (desktop/tablets).
Mobile-Friendly Stores
Bricks and mortar businesses are being encouraged to become more mobile friendly. Although Local PLAs will also be available to desktops and tablets, the intention is to attract people who are out and about, using their mobiles to shop offline. This not only means using mobile advertising to bring people to stores, but using mobiles in-store to keep a mobile-friendly store (very similar to having a mobile-friendly website) in order to engage consumers further with the company, brands and in-store promotions.
Coming Soon…ish
Unfortunately this feature is not currently available; although companies based in the US with at least 10 stores can apply to be a part of the testing process (they can do so by emailing [email protected]). We expect this feature to slowly be rolled out after the testing phase, and hopefully see it towards the end of the year.
For further tips on how to maximise revenue and ROI from Pay Per Click campaigns click here and for some advice on how to improve your ad copy click here.
For those of you who are searching for expert advice on how to build or grow your Product Listing Ad campaigns, then contact us today and call us on 0116 298 7496 or click here to use our online contact form.